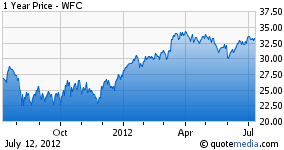 I was out with a bunch of my expat (New York and Boston in this case) trader friends the other night in Miami. It was the usual bull session full of the usual Yankees versus Redsox banter and the inane subjects one talks about in Miami (Are Venezuelan or Colombian women more beautiful/high maintenance). We traded around a lot of interesting trade ideas as well. The topic of the major banks came up in a question on which of the major banks: Bank of America (BAC), Citigroup (C), JPMorgan (JPM) or Wells Fargo (WFC), would be the pick if you only could/had to invest in one. This question comes up sporadically as most of these traders spent time at one or more during their careers. What was interesting was that for the first time since the financial crisis the consensus pick was not JPMorgan but Wells Fargo.
Six Reasons to like Wells Fargo over its competitors:
It will be less impacted by Dodd-Frank legislation, especially around proprietary trading than the other major banks.
It has a lower five year projected PEG (1.01) than Bank of America (1.73) or JPMorgan (1.15).
Wells does not have an embarrassing $5B trading loss or a CEO that is spending lots of time appearing before congressional committees like Jamie Dimon these days.
It is out from the government's thumb and has a well-respected CEO with extensive banking experience unlike Citigroup .
It did not make a disastrous acquisition (Countrywide) or have a different culture (Merrill Lynch) to integrate like Bank of America.
It is the market leader in mortgage origination, and could be the biggest beneficiary of the major banks to a sustained housing recovery.
4 reasons WFC is solid pick at under $33 a share:
The company has an A+ rated balance sheet with 2.6% dividend yield, the dividend payout was just increased 80% starting in May.
WFC is selling near the bottom of its five year valuation range based on P/S and P/B and sells for just 9 times forward earnings.
Earnings are expected to go from $2.82 a share in FY2011 to $3.28 a share in FY2012 and $3.65 in FY2013. Consensus earnings estimates for FY2012 and FY2013 have been stable for the last three months, and earnings could surprise on the upside should the housing market continue to recover.
The 31 analysts that cover the stock have a median price target of $38 a share on Wells Fargo.