Commodity Chart Of The Day
Weekly Feeder Cattle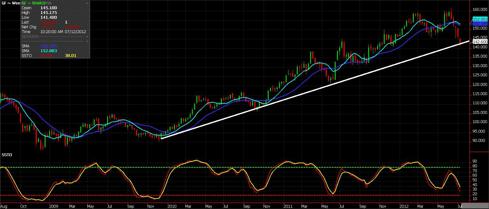 There are 2 tradable cattle products so do not get confused, the chart above is feeder cattle. While both cattle contracts are traded on the CME the feeder cattle contract is a bit less liquid and is a 50,000 lb. contract vs. live cattle being a 40,000 lb. contract. What this means to the novice trader is every 1 penny move in the futures equates to $500 vs. $400 in live cattle.
As displayed above the trend line that has acted as support since late 2009 is being challenged as prices have depreciated 12% in the last five weeks. My take is that rising prices in the past year have enticed increased production enough so that prices have reached an interim top and headed south in the months to come. The lack of demand for beef could also serve as a double whammy as a global recession has had its effects on the carnivore population.
An equilibrium price in feeder cattle over the last five years is closer to $1.20 and current prices are nearly 20% above that level. I would continue to sell strength looking for a further reduction in pricing. Albeit two very different contracts I echo the same philosophy in live cattle and being this product is more liquid and in most instances easier to navigate we should continue to see pressure here as well. For longer term traders I would be looking to gain bearish exposure on rallies.
Risk Disclaimer: The opinions contained herein are for general information only and not tailored to any specific investor's needs or investment goals. Any opinions expressed in this article are as of the date indicated. Trading futures, options and Forex involves substantial risk of loss and is not suitable for all investors. Past performance is not necessarily indicative of future results.
Disclosure: I have no positions in any stocks mentioned, and no plans to initiate any positions within the next 72 hours.