Since the leverage loan market closed this summer, financial sponsors (private equity firms) have been pretty much absent from the buy side.  Without debt financing, the sponsors have been unable to LBO new companies.  This has had a profound impact on investment banking divisions since sponsors paid more in fees than other clients due to their active deal making.  Fees from advising on leveraged buyouts plunged by 75 percent in the first quarter, according to Bloomberg.  Private equity companies paid $1 billion to securities firms in the U.S. and Europe during the first quarter, down from $4.3 billion a year earlier.  Revenue from loan underwriting plunged more than 91 perfect, and fees from advising on takeovers dropped 51 percent.  In response, most Wall Street banks including J.P. Morgan, Morgan Stanley, and Goldman, cut back on their leveraged loan groups.  J.P Morgan cut 10-15% of it leveraged finance bankers with more cuts coming; Goldman Sachs cut 5%, and Morgan cut some senior origination bankers.  Furthermore, Global investment banking fees this year total $12.2 billion, which is about 37% lower than last year's pace. That is slightly lower than in 2004-when there were $12.6 billion of fees by this date-and just a bit higher than 2001, when corporate-finance fees were $11.7 billion.  That includes revenue for everything ranging from merger advice to equity and debt financing.  Also, let's remember that this summer Wall Street banks were left with $230bn of commitments to finance leveraged buyouts.  They wrote bridge loans for most of this debt as they were unable to syndicate it or unable to syndicate it at levels that were acceptable.  The debt has left Wall Street unwilling to provide debt for new deals and caused problems with buyouts that have not closed like Clear Channel.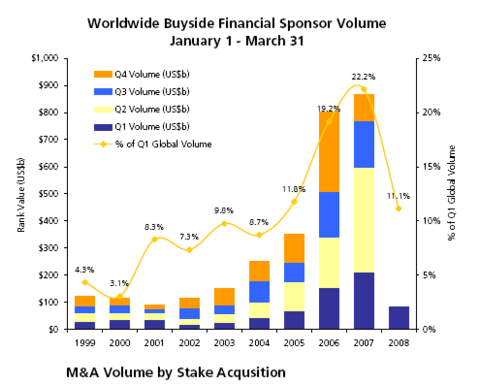 Just take a look at the chart above from Thomson.  Private Equity firms, once a major driver of worldwide mergers and acquisitions, are largely on the sidelines.  During the opening quarter of 2008 they announced just US$81.3 billion in deals.  The volume of financial sponsor-backed transactions reached its lowest levels since the third quarter of 2005. The impact of the credit crunch was particularly evident for large-cap targets as only one transaction over $5 billion was announced since July compared to 32 deals over $5 billion announced during the first seven months of the 2007. As a result, financial sponsors accounted for just 11% of announced transactions during the first quarter of 2008 compared to 22% during the first three months of 2007.  Wall Street is certainly feeling the pain from the private equity industry's fee paying hiatus but the larger story is what the private equity firms have been up to while the LBO game has been shutdown.
To begin, private equity firms have been bringing all sorts of new activities under their umbrellas.  Many have started hedge funds or bought hedge funds to brand with their names.  An example that has been hugely successful is TPG-Axon, which is run by Dinakar Singh, former head of principal strategies at Goldman Sachs.  The fund launched with $5bn in 2005 and now has assets over $8.9bn since returns have been great and new money has flowed in.  TPG owns a minority stake in TPG-Axon's management company and is an investor in the funds managed by TPG-Axon.  For another example, let's consider Blackstone's fund of hedge funds which is now one of the largest of its kind in the industry.  Furthermore, many larger buyout firms like Blackstone have started to provide advisory serve and begun to look more like investment banks.  Many PE firms have also launched venture funds or smaller private equity funds to invest earlier in growth companies.  They have also notably started leveraged loan funds to buy the debt that is created by LBOs.  KKR Financial and Carlyle's now defunct fund stand-out in this category.  The story of private equity funds diversifying into other business areas has been ongoing for the last 3 to 5 years.   However, the first story has been going on for the past few years.  Two major events this week should give investors in private equity funds pause.
First, we had the $7bn capital infusion into Washington Mutual in the form of direct sale of equity securities.  TPG led the group doing the financing in exchange for a minority stake in the company and a board seat.  TPG Capital anchored an investment group comprised of WaMu's top institutional investors to provide the $7bn.  TPG will buy $2bn worth of newly issued securities in WAMU.  WaMu's board of directors intends to appoint TPG Founding Partner David Bonderman to the board. In addition, Larry Kellner, chairman and chief executive officer of Continental Airlines and former executive vice president and chief financial officer of American Savings Bank, will become a board observer at TPG's request.  Keep in mind that Mssr. Bonderman was on WaMu's board a few years ago and it did not cost him a $2bn investment.  For those of you who do not know, Bonderman is a founder and principal of TPG and TPG Asia (formerly Newbridge Capital).  Before founding TPG in 1992, Bonderman was Chief Operating Officer of the Robert M. Bass Group, Inc. in Fort Worth.
Now, private equity firms holding minority public equity stakes is nothing new.  Yet normally these stakes come about as a result of LBOs.  For example, if a PE shop LBO's a company and then they take it public then they usually retain large portion of the shares.  Overtime they sell off these shares to realize the gains or losses on their LBO.  In some cases the PE firm may hold the shares even longer if they believe the shares will appreciate more in value.  However, the TPG investment is at the beginning of the investment process and not a result of a past LBO by TPG.  This should worry investors in private equity firms considering such minority investments because then what value does a private equity firm add over a mutual fund or hedge fund.  If their true alpha generating activities and their comparative advantage is in taking companies private using leverage, improving them, and then selling them why should we expect their minority investments to work.  Furthermore, why would investors in TPG Capital, want to allow this investment style drift brought on by taking minority public equity investments when they already have managers doing public minority investing that probably charge less the TPG and do not lock up their money for the 5 to 7 years that TPG does.  Even the most successful marquee hedge funds have lock-ups less than three years.  Given the liquidity problem and the lack of a comparative advantage brought on by TPG Capital or any private equity firm making minority public equity investments investors in such firms must consider if they should stay put in these funds.
Second, several private equity companies take on some $12 billion of Citigroup's debt portfolio.  Apollo Group, TPG, and Blackstone Group are the buyers in the Citigroup case.  This portfolio was entirely composed of leveraged loans.  This action certainly clears some of the leveraged loan logjam.  So the private equity firms stepping in to buy this debt may stimulate other buyers to enter the market and clear the pipeline so new debt can possibly begin to be issued for LBOs.  From this perspective the investment makes sense.  Furthermore, if the private equity firms did credit work during the bidding for the companies that are referenced by this debt they may actually know a lot about these companies that may make these investments very good.  During 2007 we saw private equity firms that lost sellside auctions step in to buy the debt of LBOs because they believed that the company would perform well and they had already invested time in understanding the credit of the company being bought out.  So clearly on two levels buying this debt portfolio may be a strategically sound move and possibly a good investment. 
However, this action by the PE firms may still prove to be a risky business for firms and their investor.  Private equity investors are used to getting percentage returns in the late teens and would be disappointed if investment in debt delivered returns that were considerably lower.  Now returns in PE have been falling for years as a result of competition but holding this debt to maturity would further drop returns.  This drop in returns may cause some large investors in PE to reconsider the size of their allocations to private equity.  In fact, just the investment style drift brought on by buying this LBO debt may make investors concerned because most of these investors already have managers running hedge funds or bond funds that invest in this kind of credit.  These funds probably have better talent, knowledge, and experience investing in this kind of debt that the PE shops currently have.  Private equity firms purchasing leveraged loan debt may be strategically sound and could be lucrative but it raises all sorts of questions for investors about if PE firms are qualified to do such purchases.  Furthermore, investors will begin to wonder why they are paying PE firms high fees to do these purchases when other firms they have invested in already do them with more skill.  The danger is that private equity firms use money from their buyout funds to buy what they consider to be mispriced debt when investors in those funds have bought in on the basis that they would be exposing themselves to equity.  The return profile on debt is very different to that on private equity investments and the private equity guys may think they have sufficient credit experience when they don't.
One more thing.  Citigroup is planning to sell its package for an average price slightly below 90 cents on the dollar, according to people briefed on the deal.   Average market prices for leveraged loans are now around 90 cents on the dollar, versus a low of 86 cents in early February, according to data from Standard & Poor's Leveraged Commentary & Data.  The private equity firms are saying that they are going to finance this purchase with debt and equity.  Raising more debt to buy this debt raises all sorts of questions but it is significant.  Unfortunately, The Prince does not have the time to fully discuss the implications of this.  One quick comment though.  The action will raise the returns the PE firms can earn buying this debt but it also raises the risk of investing in these assets since the price of the loans could continue to fall.  Leverage combined with a volatile and declining leverage loan market would be really toxic for these PE firms holding this debt that used to be owned by Citigroup. 
In summary, all this recent investment style drift for private equity firms is nothing new.  However, the drift has certainly increased and spread into new kinds of investments.  The nature of these new kinds of investments should make investors in private equity firms concerned and suggests they should revaluate their investments in private equity firms.  Furthermore, The Prince believes that as a result of all this investment style drift private equity returns will continue to drop which may make cause investors to pull some of their money out of private equity.  It is just difficult to see how private equity firms have the expertise to move into these new investment styles and why they should continue to lock up money longer and take larger fees if they are going to be making these new investments that other managers already specialize in.
Corrections and Clarifications: This post was originally published on April 10, 2008.  Since that time a few factual inaccuracies have come to the Prince's attention and he wishes to correct them and clarify some other points.  All of changes relate to the paragraph on private equity firms starting hedge funds.  The Prince mistakenly listed TPG-Axon's AUM as $11bn when it was listed by Reuters as $8.9bn on January 8, 2008.  Dinakar Singh previous position was more specifically head of principal strategies at Goldman Sachs.  Furthermore, the Prince mistakenly said that "the hedge fund [TPG-Axon] uses TPG's infrastructure, office space, etc.".  It has been brought to the Prince's attention that this is not true.  TPG is a large minority investor in TPG-Axon funds and does own a minority position in the management company.  The aforementioned corrections and clarifications have been made to the article above.  Even though TPG is only a minority investor and is a distinct legal entity from TPG-Axon, the use of TPG's brand and the their large initial investment in TPG-Axon's funds at launch, are seen as a vote of confidence in the TPG-Axon.  These two actions by TPG made it easier for TPG-Axon to raise capital initially.