There has been much discussion on the internet on why Buffett selected Glaxo SmithKline (NYSE:GSK) and Kraft (KFT). As with many of Buffett's picks, there seems to be general confusion on whether Buffett made a "wise" selection or not and angst on whether investors should follow Buffett's GSK and KFT picks. I used Morningstar's Portfolio Manager tool to determine whether GSK and KFT were the 'best' companies among popular Drugs & Biotech and Food & Beverage Manufacturers respectively. I then used Morningstar's Fair Value Estimate to see if GSK and KFT were selling at a discount to fair value estimate.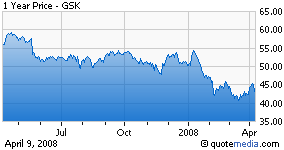 I picked four metrics from the Portfolio Manager toolbox to determine whether GSK was the 'best' company among well known Drug & Biotech companies. The four metrics were three year revenue growth, three year earnings per share growth, three year equity per share growth and R&D/revenue (five year average percent). I took three year averages since Buffett tells us not to focus on yearly results. The R&D ratio was a five year average as Morningstar does not provide 3 year averages for that metric.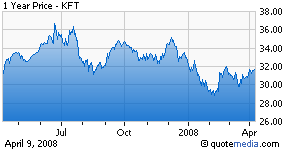 I used the first three metrics mentioned above to determine whether KFT was the 'best' company among well known Food & Beverage Manufacturers. The R&D ratio was dropped as Morningstar did not show R&D expenses for many of the companies.
The revenue growth metric was selected since Buffett looks for companies with favorable long term prospects. The earnings per share growth metric reflects how well the company converts sales to profits. The equity per share growth reflects how well the companies are increasing shareholder value. I've included the R&D to revenues metric since drug and biotech companies live and die by their success in bringing new products to market.
I selected seventeen well known Drug & Biotech companies to compare to GSK. They are: Gilead (NASDAQ:GILD), Teva (NASDAQ:TEVA), Schering-Plough (SGP), Wyeth (WYE), Sanofi-Aventis (NYSE:SNY), Novartis (NYSE:NVS), Novo Nordisk (NYSE:NVO), AstraZeneca (NYSE:AZN), Genetech (Private:DNA), Alcon (NYSE:ACL), Amgen (NASDAQ:AMGN), Johnson & Johnson (NYSE:JNJ), Eli Lilly (NYSE:LLY), Abbott Laboratories (NYSE:ABT), Merck (NYSE:MRK), Pfizer (NYSE:PFE) and Bristol Myer (NYSE:BMY). For Food & Beverage Manufacturers, I selected thirty five companies to compare to KFT. They are: Constellation Brands (NYSE:STZ.B), Anheuser Busch (NYSE:BUD), Companhia de Bebidas das Americas (ABV), BG, CU, Constellation Brands (NYSE:STZ), Wolverine Worldwide (NYSE:WWW), Pepsi (NYSE:PEP), Hansen Natural (HANS), Wrigley (WWY), Unilever (NYSE:UL), Coca-Cola (NYSE:KO), Smucker (NYSE:SJM), Pepsi Bottling Group (PBG), General Mills (NYSE:GIS), Tyson Foods (NYSE:TSN), Coca-Cola Enterprise (NYSE:CCE), Unilever N.V (NYSE:UN), SABMiller (OTCPK:SBMRY), Coca-Cola FEMSA (NYSE:KOF), Campbell (NYSE:CPB), Sara Lee (SLE), ConAgra (NYSE:CAG), PepsiAmericas (PAS), Diageo (NYSE:DEO), Kellogg (NYSE:K), Hershey (NYSE:HSY), McCormick (NYSE:MKC), Brown-Forman (NYSE:BF.B), Cadbury Schweppes (NYSE:CSG), Nestle (OTCPK:NSRGY), Heinz (HNZ), Molson Coors (NYSE:TAP.A), Kirin Holdings (OTCPK:KNBWY) and Molson Coors (NYSE:TAP).
Each of the metrics was sorted from lowest growth to highest growth and numbered in sequence. That is - the company with the lowest earnings per share growth figure was numbered '1' and the next lowest was numbered '2' and so on. The numbers for each metric for each company was then summed. The company with the highest total number would, theoretically, have the best combination of revenue, earnings per share, equity and, in the case of Drugs & Biotech, R&D to revenue growth.
GSK received the highest number (65) among the Drug & Biotech companies while KFT received the highest number (108) among the Food & Beverage Manufacturers. To those who are curious about Buffet's other two drug company choices: Sanofi Aventis came in at number six behind Gilead Sciences, Teva Pharm, Schering-Plough and Wyeth (in that order) while Johnson & Johnson came in at number thirteen.
According to Morningstar's Fair Value Estimate, GSK's and KFT's intrinsic value is $57 and $40 respectively and the stocks are trading well below the intrinsic values.
Disclosure: none