Farmers & Merchants Bank of Long Beach (OTCQB:FMBL) just experienced an unprecedented one-day decline in its stock price. In about one hour of trading, the stock fell 30% and touched $4,200 down from $6,050 earlier that day. Just a couple of weeks ago, FMBL was sitting pretty around $6,700. It has a 52-week high of $6,950 set in June of 2007.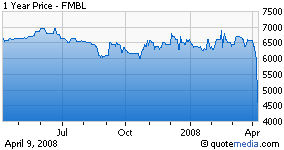 On March 5, 2008 FMBL put out a tender offer to buy 14,720 shares of its common stock at $7,300 per share. The tender offer closed on April 1, 2008 and this large stock price decline occurred in tandem with the closing of the tender offering. 42,316 or about 27% of the shares outstanding were tendered as part of this offer. The bank only bought 14,720 per the original tender offer. I would surmise that the other 73% are the shares primarily owned by the founding family and a handful of other close shareholders. The announcement of the details of the tender offer was made public on Monday, April 7, 2008 after the market close. Tuesday, April 8, 2008 saw FMBL stock price sharply decline.
Stocks will often move without real reason or motive and such volatility is even more fascinating in thinly traded, closely-held stocks such as FMBL. There is certainly not enough liquidity out there for a substantial quick trade and less than 6% of the shares outstanding are owned by institutions. So, what happened? The bank's financial numbers were still strong and FMBL remains one of the strongest banks in the entire country based on a variety of industry standards and ratios. Being in Southern California, FMBL has likely experienced some slowdown related to the housing market implosion, but for the most part, FMBL has maintained much of its market capitalization during these tough times.
My best guess is that the owners of the 27,596 shares that were not accepted as part of the tender offer got aggravated. These investors were hoping to liquidate their entire stake at $7,300 and instead only got 33% of what they asked for in terms of total dollar amount. These investors may simply have lost patience, got frustrated, and opted to dump their shares on the open market. It may have even been a single shareholder trying to prove his or her point by hitting the bid and driving the stock price down. At $4,200, some relatively large size blocks, totaling up to about 700 shares, traded. To me, this appeared to be the floor. FMBL book value is about $4,300 per share and FMBL does not carry a lot of debt, particularly relatively to its cash position. FMBL will be expending about $105,000,000 of capital to repurchase the 14,720 shares and that will certainly have a negative impact on book value, but I estimate to the tune of $300-$350 per share.
Two things came to my mind. First, was FMBL over sold? Second, would the founding family really watch 30% of their paper wealth evaporate in 60 minutes for no reason? More importantly, FMBL had not seen its stock price at these levels since early 2004. Incidentally, there was a small gap in the stock graph around the $4,200 levels providing support to the conspiracy theory that all gaps eventually get filled.
Anyway, I thought FMBL was oversold and I believed that the Walker family would not tolerate such an overnight, unsubstantiated decline in their family worth. I jumped in at $4,500 and as of Wednesday, April 9, 2008 at 2:15pm, the stock is trading at $5,790, up about 29%. Over the short term, most of the upside from its $4,200 lows has likely already taken place. However, the under $5,000 price tag represented an excellent entry point for FMBL. Generally speaking, over the long term, it is likely a very strong buy under $6,000.
Disclosure: Author has a long position in FMBL.OB