Every investor hopes to buy at the bottom and sell at the top. We're getting close to a bottom in Delta Airlines (NYSE:DAL). The stocks of all US airlines are reacting negatively to today's cancellation of over 1,000 American flights as they continue re-inspecting the wiring on their fleet of MD-80's.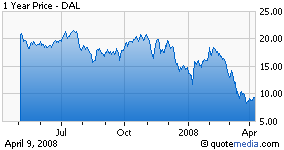 Adding to this downside pressure is the fact that oil is up near its all time high and the broad market is selling off after the recent rally. As I wrote this (Wednesday afternoon), Delta is down nearly 8% on the day and has been cut in half since merger talks stalled last month. This merger is going to happen. High fuel prices demand that it happens. The only issue yet to be resolved between Delta and Northwest is that of pilot seniority; definitely not a deal breaker.
On Wednesday morning the Wall Street Journal reported that a deal could be completed as early as next week. By combining forces the company will be able to reduce cost's and boost revenue as they strive to survive this rough environment. Barring a terrorist attack, I cannot imagine the airline news flow getting much worse than it is this week.
As the weather warms up and speculators settle down the trading range of oil will lead its price downward and airlines should get a decent bounce off of these lows. I would rather own DAL than AMR because of the additional benefit of the merger catalyst. With oil back in the $90's, along with an agreement between Delta and Northwest, I expect at least 25% upside in DAL stock from current levels.
While the automotive industry has been slow to adapt to high oil prices the airline industry has not. They have instituted numerous cost cutting measures and are actively replacing their planes with more fuel efficient models. If oil ever drops back down to historic averages, and it always does, the airlines will reap the financial rewards of their efforts over the last few years. In fact, oil prices might drop more quickly than investors think.
As the broad market continues to stabilize and recover from the financial turmoil of Q1, the oil speculation money that drives oil prices will transfer to better opportunities. We could easily see $80/barrel in 08 and then $50-$60/barrel in 09. Delta stock at $8 in April of 2008 sounds like it could be a bottom to me.
Disclosure: No ownership of any stocks mentioned