Reviewing the 'latest' Office Max (NYSE:OMX) turnaround plan was a little embarrassing; I found myself thumbing through 135 slides that referenced how they were going to "refocus". You would think executives with such elevated compensation packages would be focused on what amounts to nothing more than 'best practices' from the start.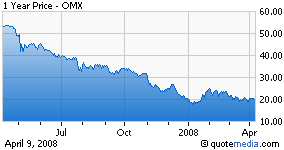 Now in fairness, the macro environment is tough and Office Max has done a better job at managing costs than their peers, albeit with a lower margin profile, but a wise boss once told me "you can only get so lean". Eventually, Office Max will run out of head count reduction plans and other creative cost savings initiatives. Soon that trail will end and current differentiators like TUL and IMPress will prove nothing more than the equivalent of fancy rims for horse draw buggies right before the first Ford rolled off the production line.
Let's be real, if you were to remove the signage from Office Max or its peers for that matter would you really know or for that matter care where you were buying office products? The point here is the battle for real estate and scale is meaningless absent true differentiation.
Furthermore, I fail to see how remerchandising stores or the handful of other efforts they mentioned will lead to reenergizing sales and profitability. With that said, and as a shareholder, I would offer some different trails to explore:
1) Modernize the Connection With Today's Small to Medium Business Customer
First, offer in-house marketing services that include web development, corporate identity packages, business consulting, packaging and distribution. Most if not all small businesses begin with a great idea and nothing more. Most first time entrepreneurs and even seasoned ones struggle with the aforementioned and fail to understand how powerful these services can be. Bringing them in under one roof makes a lot of sense and creates a real connection that has direct benefits to the core product line. Inclusive of the web development services would be how to implement e-commerce sites, search engine optimization strategies, pay-per-clicks, etc…These are high margin services that once established create a meaningful connection. I will grant you the services listed above have low barriers, but lack one important thing. A brand name.
2) Acquire a Network and Data Storage Business
This strategy is for much larger clients, but there are a host of public and private companies including Iron Mountain, Lason Inc, Global Data Vault, Blue Point Data, iDrive, Storage Guardian just to name a few. If you're looking for a way to make switching costs for paper supplies painful, just add network and data storage to the mix. I doubt companies will be willing to switch for a few cents off paper when the same company is charged with protecting their data. Again, this ties directly back to the core business and has a great margin profile.
3) Create a "Google Like" Certified Business Network
Office Max is incredibly successful with their "Elf" promotion during the holidays. The site offers you the ability to upload pictures of family and friends and have them dance to the animation of elves. The concept is clever and the number of site visitors (75 million) speaks to the success. However, as clever as it is, there is no mention of how they are able to monetize this increased traffic. My sense is that it's a tradition and nothing more. But it got me to thinking. The company has some clever marketing talent, why not create a certified paid listing service for business customers. Just image the connections to the core product line. This is a little out there, but achievable. I will not bore you with the details, just go to Google (NASDAQ:GOOG).
I think the theme of modernizing the connection with the customer is something they should take to heart. That doesn't mean, reconfigure store layouts for an improved shopping experience. There are too many headwinds that make this a low priority in my opinion ($112 Oil is #1). Now that doesn't mean the shouldn't keep the stores clean, invest in a culture that drives and rewards the right behaviors at every level of the organization, but modernizing the connection is a transformative approach that removes the mundane comparisons and quite frankly offers a different multiple and growth profile for what is nothing more than an industry with 3 different color boxes selling exactly the same thing.
My 2 cents.
P.S. Sam, you made $4.7 million in 2007; how about taking $1.00 in salary in 2008 to align your interests with shareholders. Just a thought.
Disclosure: Author holds a position in OMX