Amdocs (NYSE:DOX) one of our favorites here at IOI, announced it bought broadband cable solutions provider Jacobs Rimell Ltd. for approximately $45 million to build its operations support systems [OSS] offering. With the purchase Amdocs maybe the only vendor around to provide a complete "order-to-cash solution spanning all customer experience systems."
This came on the heels of last week's announcement by S&P raising Amdocs credit rating to BBB where S&P said:
The ratings on Amdocs reflect its top-tier customer base and highly visible and recurring revenue base, modest debt leverage with substantial liquidity, and good growth prospects as the telecom sector matures and shifts its focus to cutting costs.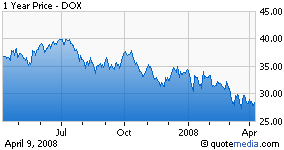 Coupled with its drive into the mobile world, Amdocs continues to execute its business model well, and long-term investors may want to take a strong look at the company.
Disclosure: The author's fund holds a position in DOX. He holds no position in any other stock mentioned as of April 8, 2008.