Vivus (VVUS) is a biopharmaceutical company, which mainly develops medicines for treatment of sleep apnea, diabetes, obesity and male sexual health. While its portfolio is relatively diversified, there is a great deal of interest in company's obesity treatment products. Vivus is currently awaiting final approval from FDA, for Qnexa, their most recent drug. Qnexa is a drug meant to help reduce weight. A few years ago, Qnexa was initially rejected by FDA at the first attempt. At the second presentation in this year, Qnexa got a vote of confidence by a whopping 20-2 margin by the committee.
Vivus will get a final decision about Qnexa on July, 17, 2012. If approved, Qnexa will be the second drug to be approved by FDA in weight loss category in two months. The company plans on marketing the drug by the end of year 2012. European authorities have delayed a decision on the approval of the drug. Vivus is entirely focusing on getting Qnexa approved by FDA at the moment. Currently, Lorcaserin is the only weight reduction drug approved by FDA. Arena Pharmaceuticals (ARNA) is the developer of Lorcaserin.
Clinical Background
Qnexa has already created a strong buzz in the market. Clinical studies have shown a significant weight loss in the participants. According to the results published by the company, average weight loss for top dose participants was 14.4%. Average weight loss for low dose Qnexa was 6.7% and 2.1% for placebo. Mean weight loss after week 56 was 10.9% for top dose and 5.1% for low dose. Participants who completed the top dose treatment, 83.5% lost ≥5%; 67.7% lost ≥10% and 48.1% lost ≥15% of their baseline weight. There are some adverse effect fears, due to which Vivus has to follow a labeling protocol. Qnexa will not be prescribed to the pregnant woman. Vivus plans on advising the patients to stop taking the medicine, if weight loss is less than 3% after three months.
Stock Performance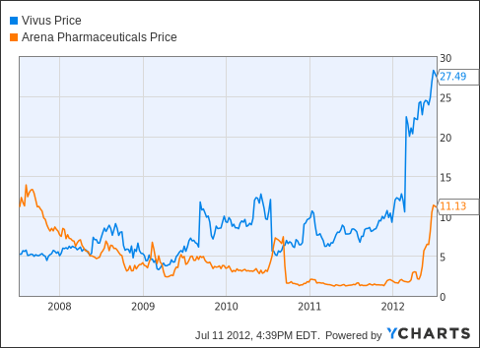 Click to enlarge
(Click to enlarge)
Data by YCharts
Both Vivus and Arena stocks are currently trading near its 52 week highs. Vivus stock closed at $28.47 on July, 09, 2010. The 52-week trading range for Vivus is $6.13 - $29.99. Even after the recent retreat, the stock is trading near its 52-week highs. Market cap of Vivus Inc. is $2.83 billion, slightly higher than the $2.15 billion market cap of Arena. Vivus stock has a relatively high Beta of 1.42. Trailing twelve month EPS is -0.63. One year analyst target for Vivus is $31.20.
Ratio Analysis
Estimates for the current year EPS are 40% more than the past 12 months EPS. One year forward estimate for EPS is to grow by 166%. Forward P/E is unusually high at 72.90. Current P/B ratio stands at 8.72. Firm is in an exceptionally strong liquidity position. Quick and current ratios are 25.70 and 25.92 respectively. Unlike Arena Pharmaceuticals, Vivus has no debt in its capital structure.
Pipeline Products
Vivus had Avanafil approved by FDA in April, 2012, a drug for men with erectile dysfunction. Vivus plans to sell Avanafil under the brand name Stendra. Stendra promises to work in fifteen minutes, half the time it takes the pills from rivals companies to work. That is a very short period by industry standards.
By getting Stendra approved, Vivus now stand to compete directly with giants of the industry like, Pfizer (PFE), GlaxoSmithKline (GSK) and Bayer. Analysts believe that the sales from Stendra can go up to $68 million in the next year and to $459 million by the year 2017. Erectile dysfunction market itself is currently worth $4.3 billion. Viagra, Pfizer's well-known super-charger, holds almost half of the market share. Vivus is working on getting a partnership to market Stendra as well.
Besides the existing products, Vivus wants to focus on the marketing of Qnexa, if approved. Vivus wants to preserve the entire budget to spend on the marketing of Qnexa. Obesity market is largely unexplored, and it is a large market. There will be less competition in this segment. Vivus has a good marketing network. Vivus has more than one product in the market. As such, the revenues will not be depending on only one drug in a hugely unexplored market.
If approved, Vivus plans to launch Qnexa in the later part of year 2012. On the other hand, Arena Pharmaceutical expects to market the drug in 2013. This will give Vivus Inc a head start on its main competitor, and the firm can capture a large chunk of the market. Vivus is planning to directly market the drug in the U.S. itself and seek partnerships outside the U.S. USA is an immense obesity market. Arena does not have the pure marketing rights for its own obesity drug. Only a certain portion of revenues from sales will go to Arena, whereas the rest will be taken by Aisai Pharmaceuticals, the Japanese partner. This I believe is again an advantage for Vivus over Arena.
Insider Sales
The biggest bearish argument made against Vivus is the sale of shares by three executives in the past two months. Insiders selling stock before the approval are sure to raise concerns among the investors. The main reason, which most people have been ignoring, is something less critical. Vivus executives have been selling stocks under the 10b5-1 trading plan to cover themselves legally against allegations of insider trading. CEO of Vivus recently sold 100,000 shares, but he still owns 4.3 million shares.
Summary
I think the FDA decision is almost certain, and Vivus is extremely hopeful on the approval of Qnexa. This drug will prove to be a catalyst for the success of the company. Analysts believe, after the approval, Vivus stock should be priced at $40. Vivus, currently trading below $30 presents an exciting opportunity to make tidy profits. Insider sales are worrisome, but it is hard to say that insiders are getting rid of their shares, as they hold substantial stake in the company. This still raises a red flag for interested investors. Therefore, as the stock has already made substantial gains, I would suggest a hold and buy at pullback strategy for Vivus.
Disclosure: I have no positions in any stocks mentioned, and no plans to initiate any positions within the next 72 hours.