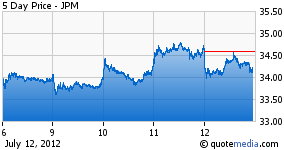 JPMorgan (NYSE:JPM) is set to report Q2 results before the market open on Friday, July 13 with a conference call scheduled to take place at 7:30 am.
Guidance
Analysts' consensus estimate is 76c for EPS and $21.93B for revenue. The consensus range is 19c-$1.01 for EPS and $18.83B-$24.53B for revenue, according to First Call. The bank is set to report results amid uncertainty about the extent of its recent investment losses. On June 28, The New York Times reported that internal models at the bank showed that the loss could reach $9B. However, on the same day, Reuters and CNBC reported that the loss would be limited to $4B-$6B.
Analyst Views
A number of research firms reduced their targets on JP Morgan by $5-$10 following the disclosure of the company's trading loss, but many retained Buy or Outperform ratings on the stock. The bank was downgraded, however, to Market Perform from Outperform on May 11 by FBR Capital, which said that the trading loss made the bank's earnings outlook uncertain. FBR Capital slashed its target on the shares to $37 from $50. Conversely, RBC Capital wrote in a note to investors that the decline in the stock in the weeks following the announcement of the trading losses had been overdone. The firm maintained a $50 target and Outeprform rating on the shares, which have dropped over 15% since the trading losses were disclosed. Investors will also be interested in hearing about the possible impact of the Libor scandal on JPMorgan.