If you travel far enough West, eventually you will get to the Far East.
This is the path you might travel if you buy shares of Athabasca Oil Corp (OTCPK:ATHOF).
In January 2012 the company announced the sale of its 40% stake in the MacKay oil sands project to PetroChina for $680 million, and Athabasca can exercise a put option to sell its Dover property to PetroChina, which would bring in approximately $1.3 billion (CDN).
But as pointed out by Tim Kiladze from The Globe and Mail in this article - What's Left for Athasbasca Oil Sands - it may make more strategic and financial sense for PetroChina to buy the entire company.
Mr. Potter also points out that PetroChina could ultimately become an outright buyer of the whole company, should the political appetite for such a deal exist.

Acquiring Athabasca's Dover stake is also very expensive for PetroChina relative to simply bidding outright for the company. And in an outright takeover, the acquirer would "rather inexpensively get an additional 8.1 billion barrels of resources plus 1.7 million acres of undeveloped lands prospective for liquids rich/tight oil opportunities."

On top of that, "there is no stand-still agreement between PetroChina and Athabasca to prevent such an outcome, although we note that Athabasca's shares are quite tightly held which means a friendly deal would be the only plausible outcome," he added.
As demonstrated last week with the Petronas purchase of Progress Energy Resources - Malaysia's Petronas to buy Progress Energy Resources for $4.8 billion - the probability of a takeover increases once a foreign sovereign oil and gas entity has already completed transactions with and become more familiar and comfortable with a private oil and gas company.
The current market capitalization of Athabasca Oil Corp is $4.58 billion, with $1.3 billion in cash. Athabasca appears to be in the sweet spot for a takeover.
Of course, it is impossible to know if and when PetroChina will indeed make a bid for the entire company. And this should not be the only reason to buy the stock.
But even if PetroChina does not make a move to purchase the entire company, there are still some positive catalysts going forward:
If Athabasca exercises its put option on the Dover project, it will add approximately $1.3 billion cash to the company's balance sheet.
Even if Athabasca sells Dover to PetroChina it will still be left with an oil sands resource estimate of around 8 billion barrels.
Athabasca is starting to diversify from its oil sands projects and is currently exploring a new 400,000 acre light oil play.
And one more thing.
We identified what we like to call a Triple Release technical breakout in the stock.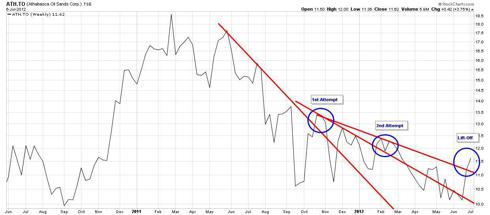 Click to enlarge
It appears that the downtrend that the stock has been stuck in since May 2011 has ended. By closing above $11.25 for the week ending June 29, 2012, the stock triggered a TrendCharts Bullish Buy Signal.
The stock looks attractive from both a fundamental and technical perspective, and we are LONG.
As always, if for whatever reason the position starts to move against us we have an Exit Signal for the trade that will limit the downside risk.
Disclosure: I am long OTCPK:ATHOF.