Market Recap: The market made a valiant comeback today to end the day much better than it started but weakness in the market continues, and we would suspect most of the strength in today's market was mostly done by short covering. The market was reacting somewhat bullish to some news though that initial jobless claims came out better than expected at 350K vs. 375K expectations. Overall, though, it was a pretty light day in the news, and we believe that heading into the JPMorgan (NYSE:JPM) and Wells Fargo (NYSE:WFC) earnings reports that traders were looking to cover their shorts as any surprises could really pop this market up tomorrow. At the same time, another round of bad earnings would not be good at all for the market especially with the comeback today.
We could easily see a retest of today's bottom, which is an important level for the market psychologically at 12500 and 1325 as those have been nice support levels over the past couple months. Earnings have been very weak so far as seen by Supervalu (NYSE:SVU) and Marriott (NASDAQ:MAR), and if this is the type of quarter we are headed for this market could see a pretty sizable correction.
Two Trades
Two trades we like right now are going long on Chipotle Mexican Grill (NYSE:CMG) and also looking at selling puts in IBM (NYSE:IBM). CMG has held up very well in the marketplace despite its very tough move over the past week as well as gotten some nice support from analysts. We believe the stock could retest $400 into earnings if the market gets going a bit here. The company was mentioned well by Goldman Sachs (NYSE:GS) and got a nice report from Cleveland Research about same-store comps. It has held its 200-day MA well and is bouncing up. Additionally, we like the looks of an IBM bottom to be forming soon. The company has gotten hit hard over the past week, and we believe that any major dip like this is a nice place to buy IBM as we have it Buy-rated with a $270+ PT. The company has solid growth and has done well to position itself in emerging technology markets. We believe it is nearing a bottom and like selling some puts on it from here.
Trade #1: CMG, Long
Trade #2: IBM, Sell Aug18 $170 puts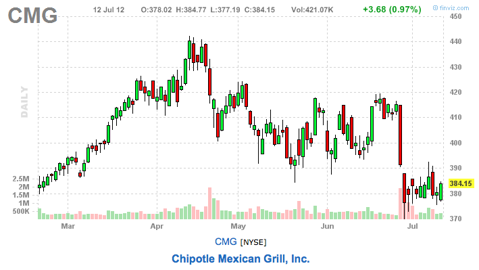 Click to enlarge
Tomorrow's Outlook
The market made a nice rebound again today for the second day, and if we open lower again tomorrow we may see another rebound of short covering into the end of the weekend. At the same time, the move for tomorrow comes down to JPM and WFC. Both have black eyes going into this report, and it will be very interesting to see just what they report and guide moving forward. How bad is the loss at JPM? Is WFC going to see much pain due to its recent fair-lending charge? Are they seeing an improving lending environment? A lot is on the table for tomorrow, and we believe that whatever happens the move will be large, which is why we suggested a Direxion Daily Financial (NYSEARCA:FAS) reverse iron condor yesterday. We also have the Michigan Consumer Sentiment Index, which could either put a ceiling or floor on tomorrow's movement after what should be a gap one way or the other.
Oxen Group Moves
We had a pretty solid day in the market. We were able to close our Tesla (NASDAQ:TSLA) long, Tiffany (NYSE:TIF) short position for a 3.5% gain. We also closed out sold puts in Marriott from our Earnings Alpha portfolio for a solid 16% gain. We hit a target in AutoZone bull put spread for a solid gain of 10%, but we were stopped out on bull put spread in Intuitive Surgical (NASDAQ:ISRG) as that stock has moved to close too comfort for us into earnings. We also were stopped out on Hillshire (NYSE:HSH) long from our Goldman portfolio. We added a long in CMG as well as long in Susquehanna Bancshares (NASDAQ:SUSQ) to our Earnings Alpha portfolio.
We have the following positions:
In our Short-Term Equity Portfolio we are long Dollar Tree (NASDAQ:DLTR), Ashland (NYSE:ASH), Expedia (NASDAQ:EXPE), Chipotle Mexican Grill . We are short Pall (NYSE:PLL), McDonald's (NYSE:MCD), Life Sciences (NASDAQ:LIFE).
In our Options Portfolio, we are long Starbucks (NASDAQ:SBUX), Dicks Sporting Goods (NYSE:DKS), Dollar General (NYSE:DG) and AutoZone (NYSE:AZO). We are short Aflac (NYSE:AFL), Garmin (NASDAQ:GRMN), and Under Armour (NYSE:UA). We have a reverse iron condor on Apple (NASDAQ:AAPL) and Direxion Daily Financial 3x Shares .
In our Earnings Alpha Portfolio, we are long Susquehanna Bancshares , Seagate Tech (NASDAQ:STX), Apple , Capital One (NYSE:COF), Disney (NYSE:DIS), Ashland , Vertex (NASDAQ:VRTX), Intuitive Surgical , Marriott . We are short Pitney Bowes (NYSE:PBI), Schlumberger (NYSE:SLB) and Walgreen (WAG). We have a reverse iron butterfly in Decker's Outdoor (NYSE:DECK).
In our Goldman Sachs Up/Down Paper Portfolio, we are long State Street (NYSE:STT).
Chart courtesy of finviz.com
Disclosure:
I am long PNRA.