In recent months there have been considerable developments in certain companies, providing bargain prices on some of the best despite only minor changes in broad market price. The most interesting stock I have found recently is Coach (NYSE:COH). It is part of a small group of companies with the ability to consistently raise earnings for 10+ years. Furthermore, the company has a clean bill of health across the board. This growth, consistency and safety makes it an amazing investment, as long as it can be purchased at a good price. Luckily, Coach is currently priced very attractively.
There are plenty of stocks that are cheap, especially with all of the economic worries floating around. Some of these, such as General Motors (NYSE:GM), I believe are good investments primarily for that reason. Although, there are very few companies that can go beyond just being cheap, or having the potential for strong growth. Some companies, although priced slightly higher, have virtually guaranteed growth because of a competitive advantage. These are the type of investments that made Warren Buffett as rich as he is today. He has always said that an amazing company at a fair price is far better than a fair company at an amazing price.
Buffett used this methodology to justify a purchase in Coke (NYSE:KO), as well as countless other companies over the past 30 years. Coke is the epitome of this type of company: the earnings nearly always move higher, the brand is strong and no matter what market, China or the US, rich or poor, it always sells. Although, there are other great companies, some with even stronger growth and a lower price. In this case, Coach is quite an amazing company, and the price is great considering its growth. In this unpredictable market, companies like Coach can generate strong returns, and hedge the more speculative investments like GM.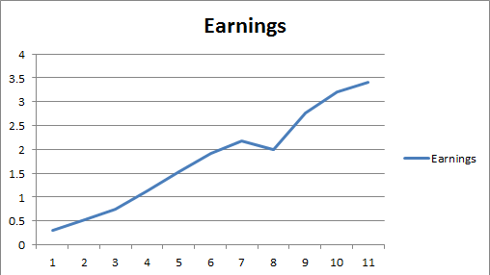 For the last ten years, Coach has been able to raise earnings at an annualized rate of 25%. Even during the recession, when one would expect a luxury company to lose nearly all of its sales, the earnings dropped less than 10%, and quickly sprang back the following year with record high earnings and growth. The earnings have been so consistent that one could conservatively estimate a continued growth rate for the next 5-10 years at 20%. Many analysts put this number lower, at a still high 16%. They claim Coach cannot possibly continue growing at this rate. What many of them fail to see is the international opportunity. Currently, about 2/3 of Coach sales are from the US. The last third is dominated by Asia, primarily Japan and China. There are still countless other markets that Coach would thrive in. Europe for example presents a huge opportunity for Coach, and the company plans on capitalizing on it. In fact, within the last year alone, they have begun to open up numerous stores. To debut this European growth, just last September Coach opened a flagship store in London. This stands as a testament to their international intentions.
A nice attribute to look for in a consistently growing company is consistently growing dividends. Although Coach has only been paying dividends for the last 4 years, it has raised the dividend by $.075 every year since. The payout ratio is below 30%, and the earnings growth can easily support this dividend growth. There is no reason the dividend will not continue to rise. For many, this presents a good income stream. Considering an investment in consistency and growth usually warrants a 10+ year time frame, this dividend will allow you to cash out without actually cashing out. Even better than a small income stream, the dividend demonstrates Coach's strive for consistent growth. The fact that they made the decision to pay a dividend, and then raise it every year, shows their outlook for its future as one full of higher and higher earnings.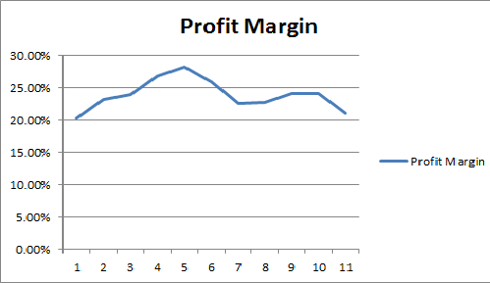 When a company is able to grow earnings for a long period of time, chances are it is already quite healthy. Still, you always want to do the research just to be sure. Not only will this confirm its strong past performance, it allows you to be confident in a future of strong performance. Coach has very strong profit margins, and the numbers have been fairly consistent for the past 10 years. Currently this number is placed at about 21%, but on average it has been closer to 25%. This high margin is at the heart of Coach's competitive advantage. The company itself has stated that its brand and strategic outsourcing allow it to keep costs low, but charge a hefty price for the product. Few other companies have the same advantage, especially in the fashion industry.
One company, Ralph Lauren (NYSE:RL), has a similar advantage, but it is not as strong. Currently its profit margin is at just 6%, and in the last ten years it has never been above 13%. Furthermore, the growth of Ralph Lauren has not been as high, and the P/E is actually higher. A potential candidate for a strong investment, especially to safeguard against a recession (it performed well in 2008 also, and was able to grow all other years), but definitely not a better investment than Coach.
The balance sheet of Coach is quite healthy too. The debt it has is near zero. In fact, all of its liabilities are still less than $1 billion. Even just the current assets of Coach are higher than $1 billion, closer to $1.4 billion. Considering inventories are supposed to be low in this industry, this is amazing.
So Coach can grow, pay out, withstand and survive, but can it generate a return for you? The answer is yes. The P/E of Coach currently offers a 6% return, but this is missing the picture; the earnings of Coach, even by conservative standards, is expected to grow much higher.
Let's assume a 20% growth rate for the next 7 years, with the last 3 years growing at 15%. Both of these figures are below what it has been able to do in the last ten years. This would mean that the current earnings of $3.35 per share would become $18.25. But let's be even more conservative. Say that Coach underperforms the analysts, and earns 15% for the last 7 years, earning 20% for only the first 3 years. Then the earnings per share in 10 years would be $15.40. Now let's assume that the P/E in ten years is 15 (far below what it has been on average), making the price $231. This would be an annualized return of 16%. But we can also add on the dividends; assuming Coach fails to raise the dividends anymore, it would still add another $10 to the final return in 10 years, bringing the annualized return closer to 17%.
Now remember that this estimate was done using a conservative earnings projection, P/E and dividend. To ensure a large margin of safety, let's be even more conservative. Let's say that Coach is only able to grow earnings at 10% for the next ten years, cuts all dividends, and the P/E in ten years is below its historic low at 8. This would bring the price down to $69.40. Astonishingly, this would still be a 3% return. Not great, but far from a loss.
Recent market developments have translated into low prices for many companies. Coach in particular looks very strong across the board, and is still at a very reasonable price. You may want to consider riskier investments like GM, or similar investments like RL or KO, but don't pass up COH. Coach is a strong company, and it is only becoming stronger. As we have seen, you can conservatively earn a 17% return, or a total return of 480%. Even assuming Coach beats all the odds, negatively, and violently underperforms, a 3% return can still be gained.
Disclosure: I am long GM.
Additional disclosure: I may initiate a long position in COH and RL over the next 72 hours.