If any of you have been following 3-D Printing Technology stocks, then you should have at least heard of Organovo Holdings, Inc (NYSEMKT:ONVO). According to the business summary Yahoo Finance provides:
Organovo Holdings, Inc. develops NovoGen three-dimensional (3D) human tissue printing technology for creating tissue on demand for research and surgical applications. Its NovoGen 3D printing technology is a platform that works across various tissue and cell types. Organovo Holdings, Inc. serves physicians and researchers involved in the fields of cardiovascular medicine, medical research, and transplant medicine.
This company has been wildly popular. Their co-founder was featured in "The 100 Most Creative People in Business 2010." They have also seen media attention through the popular Wired magazine, Time magazine, he Wall Street Daily, and Bloomberg Businessweek. They were even named to "MIT Technology Review's 2012 TR50 List of the World's Most Innovative Company."
Is it a Pump-and-Dump Scheme?
In short: No. Within the past few weeks, ONVO has seen dramatic fluctuations in price, most notably the 60% drop in share value on June 26th.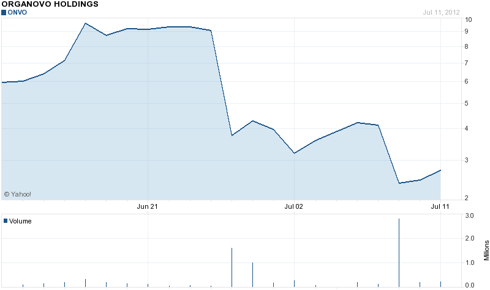 Click to enlarge.
This huge selloff had people crying foul, and some even called ONVO a scam or a pump-and-dump. While that sell off was massive, and probably hurt a lot of people, I highly doubt the company is a scam, or even the effect of a pump and dump scheme. The main reason for that simple conclusion is the fact that the company has received notable media attention from the mediums I mentioned above. A normal pump-and-dump scheme would have been the result of a marketing site's mass email to its followers telling them to buy this awesome stock, which as far as I am aware is not the case here.
So why the price fluctuations?
If you have taken a look at the financial statements for ONVO, it isn't pretty. They continue to increase their deficit year to year. It is important to note that they have been focusing on their research and development rather than sales. As of their most recent income statement, they have dug themselves further into the hole with a whopping -$43,772,138 net income since inception. Their earnings forecast is bleak, and on a purely financial basis they have performed poorly since they were founded.
However, the price of the stock did rise to a high of $10.90 on June 18th. My reasoning for the price rising this high is that people are excited about the potential and speculating that the company will be successful in the future. However, a speculation is just that. There are no guarantees in the future for the success of ONVO, which probably helped to cause that massive crash just last week as the price was inflated.
Like I said, the financials are poor, yet people were paying an extremely high price for zero earnings. The price had to correct itself, and it did so last week. Another reason for the recent drop is that insiders were just allowed to exercise their stock options which they obtained for $1/share. The insiders who sold their shares made a great deal of profit, but it drove the stock price down.
As the stock shakes out nervous people and the believers buy more shares, you can expect to see some wild price swings in the future.
What is positive?
The first notably positive aspect is that ONVO has received great media attention for being a highly innovative company. Again they have been featured in trustworthy media, and many people seem to like their upper management. They offer a product that is pretty much unheard of, so if they can perfect it quickly, they will obtain a large amount of market share and see huge profits. They have also recently been awarded two patents. One could claim that this validates ONVO's technology.
Buy or Sell?
Should people see a need for this technology, or better yet, should someone like Apple (NASDAQ:AAPL) buy in to it, I am sure ONVO will greatly succeed. However, that is just speculation. No one can predict the future, and there are a lot of risks involved with speculation. If this technology doesn't take off, the stock could take a turn for the worse; however, I have a feeling this won't be the case.
Disclosure: I have no positions in any stocks mentioned, but may initiate a long position in ONVO over the next 72 hours.