Moody's has identified an alarming trend: Multinational technology companies are accumulating gargantuan amounts of cash overseas. Apple (NASDAQ:AAPL) has amassed $74 billion abroad; Microsoft (NASDAQ:MSFT) comes in second with $50 billion stashed overseas; Cisco (NASDAQ:CSCO) at third hoards $42 billion in its foreign coffers, and Oracle (NASDAQ:ORCL) has socked away a hefty $25 billion offshore. None of the multinationals intends to repatriate its foreign profits. They all plan on permanently keeping these earnings offshore and, therefore, out of reach of U.S. taxation (see their 10-Ks).
And what they're doing makes good financial sense. The U.S. taxes foreign income at a 35% rate, minus credit for taxes paid elsewhere, creating a big incentives for companies to leave foreign cash where it was earned. Incidentally, U.S policy is unique in taxing overseas income: Most countries do not tax earnings made elsewhere.
The pile-up of corporate cash overseas is extraordinary. For instance, Apple's foreign cash hoard is accelerating and now represents 70% of its money.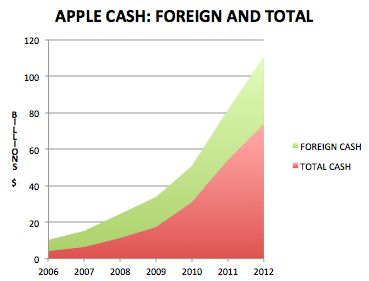 Not to be undone, Google (NASDAQ:GOOG), Cisco, Oracle and Microsoft have the majority of their money stashed overseas.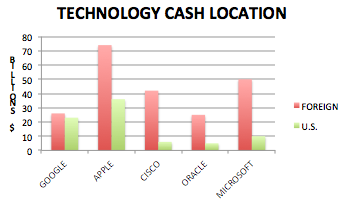 Tech isn't alone in keeping mammoth amounts of cash in its foreign subsidiaries. All the multinationals are doing it: Coca Cola (NYSE:KO), for instance, has over $27 billion offshore.
The trend has enormous implications:
1. Capital at American multinationals is predominantly held overseas, making expansion easier offshore than here in the United States. Here, I'm talking about things like increasing R&D, building new plants, making acquisitions, growing distribution. The displaced capital makes it more likely the multinationals' growth will be more there than here.
2. Multinationals are less likely to increase their dividends. Apple's CFO Peter Oppenheimer singled this out in discussing the company's dividend policy. Some multinationals borrow to pay their dividends rather than access foreign earnings.
3. Having American companies with over a trillion dollars stuck overseas is a drag on our own economy. If even a fraction of this money was repatriated, GDP would likely see a significant boost.
Unfortunately, we're in a Mexican Standoff, multinational style. American companies won't repatriate their overseas earnings without a change in U.S. taxation policy, and it is unlikely we'll see a change in tax law in the near future. Expect to see U.S. companies continue to take their opportunities elsewhere. After all, that's where their money is.
Disclosure: I am long AAPL.
Additional disclosure: Disclaimer: The opinions in this document are for informational and educational purposes only and should not be construed as a recommendation to buy or sell the stocks mentioned. Past performance of the companies discussed may not continue and the companies may not achieve the earnings growth as predicted. The information in this document is believed to be accurate, but under no circumstances should a person act upon the information contained within. We do not recommend that anyone act upon any investment information without first consulting an investment advisor as to the suitability of such investments for his specific situation.