Opportunities can open and close quickly for dividend income investors. The key is recognition of the moment and to buy. One such opportunity is Two Harbors Investment (TWO) today. Two Harbors announced a 35 million secondary offering Thursday. This will allow income investors to establish a position at a discount price. Mortgage real estate investment trusts (mREITs) can offer solid values during the secondary process. Two Harbors, on sale due to the secondary offering, provides a 14.70% annual dividend yield.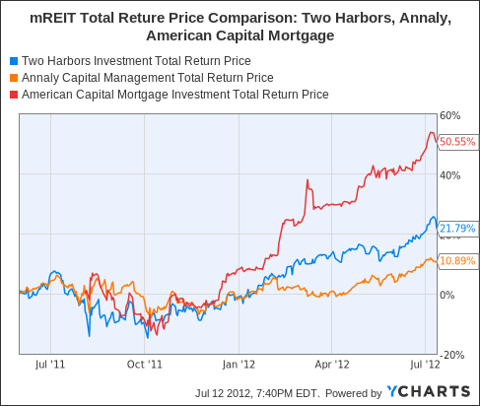 TWO Total Return Price data by YCharts
Dividend Yield
Two Harbors has paid 40 cent quarterly dividends for 7 consecutive quarters. This 14.70% dividend yield may be a perfect fit into an income seeking portfolio.
Total Return
Per the above table, investors can note Two Harbor's total price return of 21.79%. American Capital Mortgage (MTGE) management has produced a total price return of 50.55%. American Capital Mortgage is a non agency mREIT. Gary Kain, who manages American Capital Agency (AGNC), manages the agency mortgage backed securities (MBS) for American Capital Mortgage. The key to successful returns can directly relate back to the management's abilities and strategic business execution.
Annaly (NLY), the largest market cap mREIT, has produced a 10.89% return. Annaly's wholly owned unit, FIDAC, externally manages a non agency mREIT, Chimera Investments (CIM). Chimera has not filed its SEC 10K annual report as of July 12th. Chimera's returns have been disappointing since the financial crisis of 2008.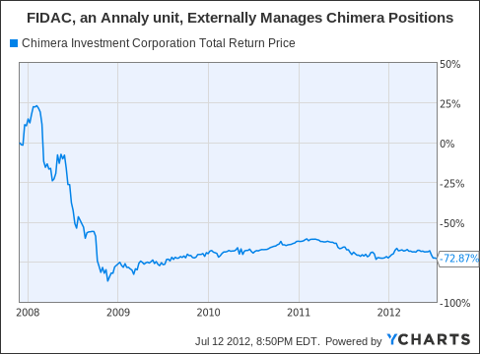 CIM Total Return Price data by YCharts
Two Harbors Valuation
Two Harbors has a reasonable valuation based upon book value and management. Two Harbors is a non agency mREIT. This allows management to buy MBS not backed by the implicit guarantee of the U.S. Federal Government.
Book Value Per Share

Per today's SEC filing, Two Harbors June 30th book value per share has increased "modestly" when compared to the March 31st book value per share. Two Harbors is trading at about $10.50 in after hours. This represents an 8.5% premium over the 1st quarter book value of $9.67. Assuming the 2nd quarter book value is $9.82, Two Harbors is trading at a 6.9% premium.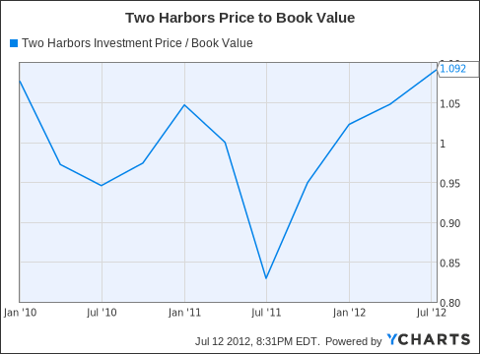 TWO Price / Book Value data by YCharts
An investor's goal is to buy mREITs close to book value per share. In this economic climate, I believe a Two Harbors allocation offers diversification and a solid management team running the show. We have to hold our nose and pay a 6% premium to book. This is reasonable for a 14.70% annual yield.
When a mREIT offers a secondary above the current book value per share, then the existing shareholders benefit. For example, assume the Two Harbors secondary is priced at $10.30 per share. If the current book value per share is $9.82, then the higher priced secondary will increase the aggregate book value per share.
Real Property Investment
Two Harbors has taken a unique approach to their business model. The company owns agency MBS and non agency MBS. In addition, Two Harbors owns real estate property. The company has agreements or is in talks to purchase property valued at $100 million. Management believes real property valuations are depressed and distressed purchase prices will add to the Two Harbors price appreciation.
Action
I believe in embracing action that will create shareholder value. Two Harbors offers a 14.7% yield. The dividend has remained consistent for almost 2 years. The current yield on a 10 Year Treasury Bond is 1.48%. I will invest in Two Harbors when given this choice. Owning a mREIT requires due diligence to maintain awareness of the dynamic mREIT risks versus rewards.