We previously wrote a four part report thesis outlining our thesis behind our recent investment in SUPERVALU (SVU). We were displeased to see the company face recent challenges in its operating performance especially because we had previously seen progress in SVU's operations. We were particularly disappointed to see the company suspend its dividend, especially because it only represented 20% of expected FY 2013 free cash flow. We can appreciate that the $75M in annual dividend payments are a discretionary cash outflow and can be used to bolster debt repayments and corporate liquidity. We also think it is pragmatic in that when SVU's management asks Joe Hansen and the United Food and Commercial Workers for concessions, Hansen and the UFCW can't say "What sacrifices are being made by the management and the stockholders".
We were glad to see that SUPERVALU reported its recent difficulties now, rather than waiting until the end of the month when the market was expecting it to report results. We were also glad to see that the company was at least profitable (EPS of $.19) and did not report any excuses in its results. We also were glad to see the Save-A-Lot business broken out as a separate reporting segment.
Still, we won't ignore the challenges that SVU has recently faced. We were concerned to see across the board identical sales declines in all three business reporting segments. SVU's Traditional Retail business saw the most challenges as it saw its operating income decline by 35% on a year-over-year basis. This was due to an Identical Store Sales decline of -3.7%, which came as a shock to us because SVU's Identical Store Sales had improved from -6% in FY 2011 to -2.8% in FY 2012 and we were expecting it to continue its forward progress.
Save-A-Lot reported mixed results during the quarter. Revenue grew by .4% as gains from 53 new stores were basically offset by a -3.4% Identical Store Sales decline. Segment operating income declined by 14.5% due to the negative ID sales performance and administrative expenses to support the division's growth.
SVU's Independent Wholesale Grocery Distribution business saw a revenue decline of .9% year-over-year. Although the division reduced its operating expenses, the operating expense decline of $11M (.4%) was not enough to offset the declining revenues, which led to a 15.5% operating income decline.
The company reduced corporate expenses by $2M (-12.5%) and company-wide operating expenses by $63M (-2.9%) on a year-over-year basis. However, this was certainly not enough with regards to offsetting the sales declines faced by the company due to increased price competition eroding the company's market share. SVU is responding to this with the following program:
The aforementioned suspension of the dividend
Reducing Planned Capital Expenditures from an estimated $625-$675M at the beginning of FY 2013 to $450-$500M.
Increasing its debt reduction goals from $400M to $450M-$500M
Reducing administrative and operating expenses by an additional $250M on top of a $75M cost reduction goal for FY 2013.
Accelerating its pricing investments to enhance its price competitiveness.
Despite the narrowed interest coverage ratio this quarter, we don't believe that the company needs to file bankruptcy. This thesis is partly based on the fact that SVU was able to replace its senior credit facility with loans based on a portion of the company's real estate assets. This refinancing will eliminate restrictive covenant concerns and increase the company's financial flexibility. Also, the company has reduced its debt outstanding since its 2006 acquisition of Albertsons and we believe that this will enable the company to at least be able to refinance its debt if it isn't able to pay it down. SVU even paid down its $282M May 2012 7.5% coupon bond issue with proceeds from the company's revolving credit line. We believe that the company's efforts to improve pricing will result in market share stabilizing, which means that its competitors can't rely on SVU to cede market share. Another thing that provides us hope for SVU is the fact that it will be getting new blood to its Board of Directors due to the fact that at least four directors will have to retire over the next three years. We believe that the potential replacements on the board will most likely be an improvement over the board members that will be departing.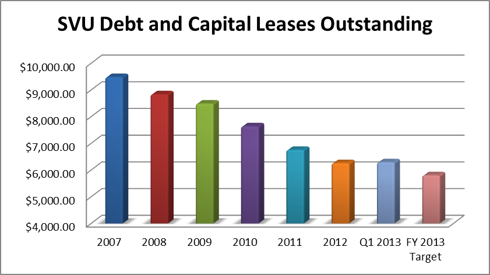 Source: Morningstar Direct and SVU Q1 Press Release
In conclusion we still believe that SVU's shares are undervalued. While we were shocked at the results of the company, we believe that the investment community has taken the company's stock down so far that it is trading as if it was a distressed company. We don't think that SVU is anything like Wal-Mart (WMT), which was Craig Herkert's previous employer. However, we don't think that SVU is like Winn-Dixie, which went bankrupt in 2005. SVU has been more aggressive in reducing its operating expenses and capital expenses and reinvesting those savings in lower prices for its customers. We are also encouraged by the fact that SVU hired Goldman Sachs and Greenhill to provide a review of strategic alternatives for the company. Since the company is still able to generate ~$400M annually in free cash flows and will be earmarking it all for debt reduction, we believe that there is potential for the company to realize value to shareholders through strategic alternatives.
Disclosure: I am long SVU.
Additional disclosure: Saibus Research has not received compensation directly or indirectly for expressing the recommendation in this report. Under no circumstances must this report be considered an offer to buy, sell, subscribe for or trade securities or other instruments.