By G.C. Mays
It is amazing to think that just 7 months ago, global wheat (Teucrium Wheat Fund: WEAT) ending stocks were sitting at 12-year highs. Lower ending wheat stocks in the U.S. are due to higher expected food use as a result of lower flour extraction rates, higher exports on reduced competition from Russia and the Ukraine as those countries lower their projected level of exports in line with their reduced production prospects. This has resulted in U.S. wheat ending stocks being reduced by 50 million bushels.
After being almost non-existent since early May, the correlation between wheat and some of the fertilizer stocks has risen steadily since late June.
Click to enlarge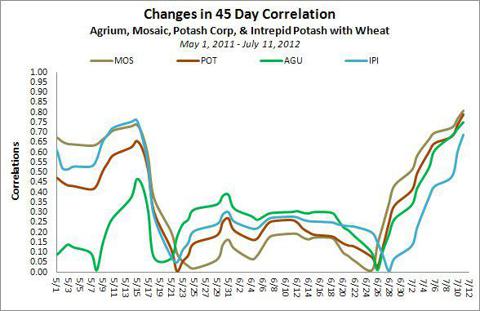 Click to enlargeSource: The Mays Report
The Mosaic Company (NYSE:MOS), whose stock price has historically had both a short- and long-term relationship to wheat prices and whose fiscal year is the same as the marketing year for wheat, has a 45-day correlation of 0.84 with wheat prices between May 1 and July 11. Potash Corporation of Sakatchewan Inc. (NYSE:POT), Agrium Inc. (NYSE:AGU), and Intrepid Potash, Inc. (NYSE:IPI) have correlations of 0.84, 0.75, and 0.74, respectively, over the same period.
Despite lower ending stocks, total supplies in the U.S. are higher due to a higher beginning stock estimate carryover from the 2011/12 marketing year. The same scenario played out globally in June, with higher beginning stocks unable to offset production estimates lowered by 6.7 million metric tons.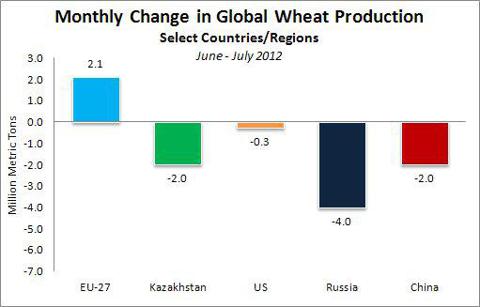 Click to enlargeSource: The Mays Report
Russia, Kazakhstan and China reported lower production estimates of 4.0, 2.0 and 2.0 million metric tons, respectively. Lower estimates in Russia were the result of smaller expected yields for winter wheat and reduced area and yield prospects for spring wheat. Heat and drought in June were the culprits in Kazakhstan. Europe raised its production estimates by 2.1 million metric tons as France, Germany, and Hungary all raised their production.
The fertilizer companies with little or no nitrogen exposure have moved higher along with the major nitrogen producers, but the gains have not been as strong. Since June 19, Mosaic is up 8.4 percent; Agrium has moved 6.3 percent higher; Intrepid Potash has a double-digit gain of 11.5 percent; and Potash Corporation has surged 12.7 percent. Not bad, but the major nitrogen fertilizer companyies were up between 14 percent and 21 percent between June 19 and July 9, though they have begun to pull back since then.
Corn (The Teucrium Corn ETF: CORN) is what the market is now focused on, but wheat prices have surged to a recent price of $8.46 per bushel on the September contract. This is in part because corn and wheat prices are generally correlated with each other. Additionally, it is my opinion that wheat futures have been bid higher as farmers secure wheat as animal feed since the supply of corn has become more uncertain. As I have written a few times recently, protecting any paper profits, whether they be on crop futures contracts or the fertilizer stocks that have gone along for the ride is prudent in my opinion.
Disclosure: I have no positions in any stocks mentioned, and no plans to initiate any positions within the next 72 hours.