Shares of Target Corporation (NYSE:TGT) have returned investors 18% over the past 12 months, reflecting a very defensive nature amid the volatile market environment. At $59.88 per share, TGT trades at 7.4x the NTM EBITDA and 13.7x the NTM EPS. With a projected dividend yield at a decent 2.4% level, I believe the stock is a very solid dividend investment given the following five reasons:
1. TGT is fairly priced to its growth potential. Analysts anticipate revenue, EBITDA, and EPS to grow at a 2-year CAGR of 6.4%, 2.9%, and 6.5%, respectively, over the current and next fiscal years. That gives the stock a reasonable PEG of 1.1x, the lowest among the peer group.
2. TGT is slightly undervalued on a comparable basis. Relative to its supermarket peers in the U.S. (see below), TGT indeed underperforms in many of the growth, profitability, and liquidity measures, although not very significantly. As such, it would be reasonable for the shares to trade at a small valuation discount. But the current stock price of $59.88 implies a substantial 25% discount on both the peer average P/E and EV/EBITDA multiples (see below), which appear to be overblown.

Click to enlarge
3. Dividend per share has risen by a 20-year CAGR of 11.6% over the last two decades (see below), reflecting management's strong royalty to the dividend policy.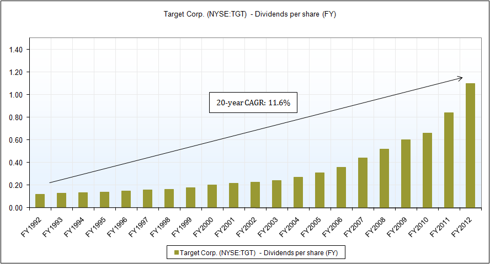 Click to enlarge
4. The current level of dividend paid is likely to be sustainable. Although FCF has declined substantially from the high in 2010 (see below) primarily owing to its expansion in both the U.S. and Canada, it appears that the current FCF level remains sufficient to cover the increased dividend payments. As the EBITDA margin is expected to be maintained at above 10% level (consensus estimates), the FCF level is likely to be somewhat sustained as well, thus providing room for additional dividend increases down the road.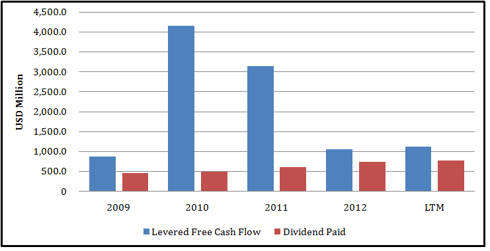 Click to enlarge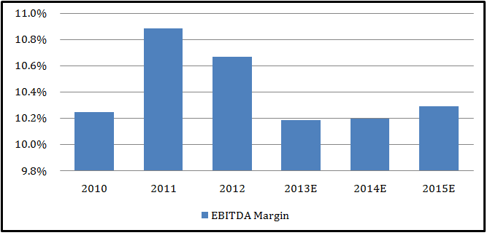 Click to enlarge
5. TGT has consistently beaten market expectations over the past four quarters (see below).

Click to enlarge
In conclusion, the cheap valuations and friendly shareholder policies provide an additional margin of safety to this defensive investment, and hence TGT should deserve a spot in your core dividend portfolio. I strongly recommend adding the stock.
Comparable analysis table and data charts are created by author, estimated financial table is sourced from Capital IQ, and all financial data is sourced from Morningstar and Capital IQ.
Disclosure: I am long TGT.