The overlooked news out Wednesday from BroadVision (NASDAQ:BVSN) is more proof that their new Software as a Service (SaaS) business is gaining momentum. The stock is currently trading at a valuation of 3.9 times e/v to earnings. The sales and earnings are largely attributable to the company's enterprise e-commerce software offering.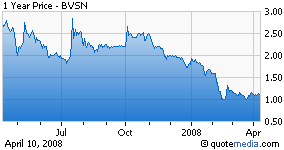 This traditional business has been turned around and the new product offering out late last year is a huge advancement over previous versions because it is completely standards based, is much easier to implement and also shifts the burden of site changes from programmers to business managers. The company is currently ramping up undersized sales and marketing to get the word out about their great new product offering.
While the turnaround was taking place at BroadVision, they were investing in a new SaaS business for Workforce Relationship Management called CHRM. Their product offering was launched in China 4 months ago and within 2 months had grown to 30 customers totaling 20,000 subscribers (recently launched in the rest of the world). Wednesday, BroadVision announced that KongZhong will be using CHRM for its nearly 1,000 employees. Just more proof of continued growth of this new business. We should get more statistics out on the growth in CHRM when BroadVision reports their numbers on April 23rd.
With the current valuation of the business you are getting a very cheap valuation on an enterprise software company and you are getting a SaaS business thrown in for free. Anyone who has been following the software space knows that SaaS has a very bright future. Pehong Chen's vision for the CHRM is quite incredible. The idea is to give away the lowest level of service and charge for more features and functionality. There might also be targeted ads in the free version eventually, since BroadVision understands how to give very relevant ads having been a pioneer of one to one marketing on the internet.
The business model of giving something away and the money will follow has been hugely successful - just ask Google (NASDAQ:GOOG). The opportunity outside of upgrades and advertising that is being overlooked by everyone is payroll processing. There is currently no payroll processing in China. CHRM customers have their payroll information already in CHRM, so it is a very easy sell for BVOD to process their payroll. This is a multi-billion opportunity for BVOD. In my opinion, the value of BVOD is higher than the complete market capitalization of BVSN. Sales growth should be huge over the next couple years opening the doors to a possible spin off BVOD as an IPO. Any way you look at it, BVSN has huge upside potential and a huge margin of safety given its low valuation.
Disclosure: Author holds a long position in BVSN