We are not fans of the solar companies. Despite receiving billions of dollars in direct and indirect subsidies, these companies continue to burn through cash. We previously analyzed and recommended that investors take advantage of JA Solar Holdings, Co., Ltd.'s (NASDAQ:JASO) $100M buyback by selling their shares back to the company in order to salvage its remaining investment. Since that report was published, JA Solar has declined by 15%. We then followed up with a report analyzing LDK Solar Co., Ltd.'s (NYSE:LDK) struggles, and we are amazed that LDK Solar's stock price has held up since then. Other notable rent-seeking solar companies that are spilling red ink include First Solar, Inc. (NASDAQ:FSLR), Trina Solar Limited (NYSE:TSL), SunPower Corporation (NASDAQ:SPWR), Yingli Green Energy Holding Company Limited (NYSE:YGE), Suntech Power Holdings Co., Ltd. (NYSE:STP) and Solyndra. There are even a couple of ETFs for the solar industry—Guggenheim Solar ETF (NYSEARCA:TAN) and Market Vectors Solar Energy ETF (NYSEARCA:KWT).
The leading solar company in the industry is First Solar. Although granted that saying industry-leading solar company is a contradiction in terms—like military intelligence or jumbo shrimp. Still, even in a lousy industry like solar, one company will climb to the top, and in this case, it is First Solar. First Solar was the industry's leader in profits until the solar bubble burst in 2011 and recorded the second smallest loss of $39M, trailing only Trina Solar.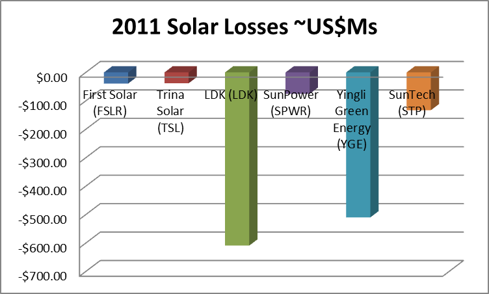 Click to enlarge
Source: Morningstar Direct
First Solar's revenue declined in Q1 by 12.3% to $497M. That is bad but at least it was less than its peers. First Solar's revenues saw a 55% decline in its components business revenue, but this was offset by a 453% increase in revenue from its solar systems business. Components saw a sharp decline in modules sold by wattage, as well as a 10% decline in its average selling price. Systems saw an increase due to an increase in the number and size of utility-scale solar power systems under construction between the periods.
We don't know what was worse—First Solar's revenue decline or its rapid increase in the cost of goods sold and other operating expenses. The cost of goods sold rocketed upward by 37% versus the comparable quarter. This was due to changes in the mix of products sold from higher-margin solar modules towards lower-margin solar power systems products. This resulted in an adjusted operating loss of $55M for the quarter. We were amazed that First Solar's operating cash flow deficit narrowed to $16M and its free cash flow deficit narrowed to $145M from $232M.
While we saw some green shoots for the company based on its Antelope Valley solar module installation project with LA County and General Electric Company (NYSE:GE) halting the build-out of its $600M Colorado thin film factory and the U.S. government putting tariffs on Chinese solar imports, we recommend that investors avoid or sell solar companies, including First Solar, until the shakeout makes more progress. We find that the solar industry's oversupply is so severe, we would need to see significant progress towards consolidation in this industry. We believe that the market weakness has caught up to First Solar and resulted in its stock registering a decline of 42.5% since its November 17, 2006, IPO.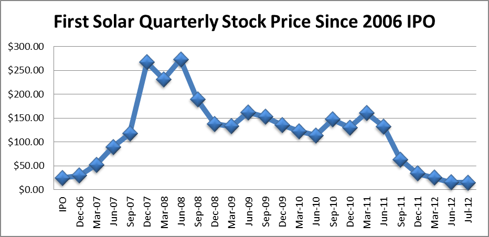 Click to enlarge
Source: Morningstar Direct
In conclusion, we believe that First Solar is the Berkshire Hathaway inc. (NYSE:BRK.B) of the solar industry. We think that is an appropriate conclusion, especially since Berkshire's MidAmerican Energy Holdings subsidiary bought First Solar's Topaz Solar Farm power plant in California. Unfortunately, we are referring to the Berkshire Hathaway (textile mill firm) of the 1960s, the same company that Warren bought in order to take advantage of its stock price movements when it closed its mills.
We believe that even the industry leading First Solar should be avoided by investors, and aggressive investors should short First Solar and its industry peers. We see that the solar industry's ability to generate revenues is heavily dependent on government subsidies and usage mandate regulations, which have been cut back in the last year and are expected to continue to decline.
With the expected weakness in the global economy, people are not going to be interested in feed-in-tariffs that are at least triple the cost of traditional, reliable electricity sources. This will be exacerbated by expected weakness in global oil and natural gas prices. Buffett acolytes James Chanos and Whitney Tilson are already shorting First Solar. In our next report, we will be expanding our research to include greater detail on why investing in the solar industry has been such a disaster for investors.
Disclosure: I am long BRK.B.
Additional disclosure: Saibus Research has not received compensation directly or indirectly for expressing the recommendation in this report. Under no circumstances must this report be considered an offer to buy, sell, subscribe for or trade securities or other instruments.