Shares of PetroChina Co. Ltd. (NYSE:PTR) have declined roughly 44% so far in 2008.This was after an initial surge of more than 150% that followed its November 5, 2007 debut on the Shanghai Stock Exchange and a move to top spot among the world's companies in terms of market value. This drop is partially due to 2007 profits that rose less than anticipated.
The creation of the People's Republic of China, which was once worth $1-trillion, has been hurt by climbing prices for rigs and other equipment, as well as government price controls.
While rising oil prices are expected to produce higher earnings for PetroChina's exploration and production division, Citigroup analyst Graham Cunningham expects this will be more than offset by higher losses in its refining business.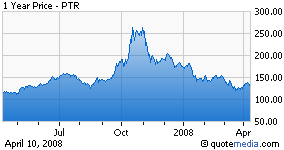 He expects the company's first quarter earnings for 2008 will disappoint the market as a result, and has downgraded PetroChina to "sell" from "hold."
Citigroup's forecasts are based on an average price for Brent crude oil of $96 per barrel and $88 for fiscal 2008 and 2009, respectively.