So far volatility hasn't been as bullish as many predicted but we are headed into a treacherous time for the market. Thin volume due to summer trading can lead to wild swings that regularly break through technical supports and resistance as if they didn't exist. While that would generally make one even more bullish for volatility in the near term, I recommend caution before getting long volatility at these levels.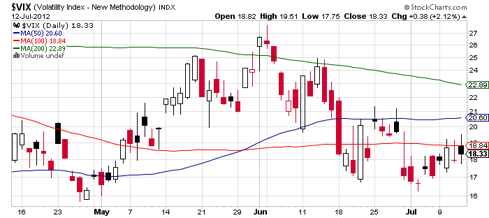 Click to enlarge
Yesterday saw another rejection of the 100 day SMA on spot VIX. This moving average has been putting a lid on spot volatility for the last few trading sessions and that further enforces my call for caution at this point.
While using moving averages and technical analysis of the spot VIX is a bit closer to wizardry than sound theory, the fact remains that since spot VIX is an indicator of market emotions and expectations at any given time, the averages of those data points can still be useful to determine turning points in the markets.
Where We Are Now
As always we need to be aware of the full picture to determine the viability of a trade. Therefore we need to take a look at the term structure for volatility futures as they stand today.
Spot VIX: 18.33
Front Month Futures (Jul): 18.50
Next Month Futures (Aug): 20.60
Out Month Futures (SEP): 22.45
I included September futures for a good reason. Since VXX, TVIX, UVXY and XIV all trade based on near term volatility, whenever the front month futures contract expires (July Futures expire next Tuesday) these products all roll onto the next set of contracts. So that means in 2 more trading sessions the term structure is going to look something like this (estimates and keeping spot VIX the same)
Spot VIX: 18.33
Front Month Futures (Aug): 20.43
Next Month Futures : 22.28
So, given these estimates I am seeing a 0.8% near term decline in volatility products as we move into the next set of contracts. This is manageable from a trading perspective but definitely should be taken into consideration.
Now that we know the roll is coming and have a good picture of the field for volatility, we need to take a look at the bigger picture.
Home, Home on the Range
As all that dabble in volatility are likely aware, we tend to see ranges in spot VIX. While in crisis mode the markets tend to oscillate between 15 and 20 with the occasional spike into the stratosphere. Taking this into account one can see that at the current level of 18.33, we are not at a great place for making long volatility trades.
As always, Europe is providing tons of reasons for wanting to be long volatility but the recent resistance that we saw at the 100 day SMA is telling me that the market wants to head back down to the 16.50 level we saw last week or lower (wow, was that really only last week?). My gut is telling me that the market wants to get a really good fakeout in place before any serious selling and the VIX would plummet in such a scenario.
The term structure is "flat-ish" with just a 2 point gap in spot to front month that is much more attractive than what we saw in June. Headlines abound to justify large market declines. Technical setups are calling for a sell off on a massive scale. Even with all this, I reiterate my call for caution in the near term as there will likely be a better setup for long volatility plays coming soon.
Disclosure: I have no positions in any stocks mentioned, and no plans to initiate any positions within the next 72 hours.