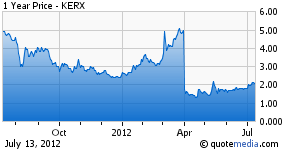 The dream of any investor is to find a cheap investment that will pay off many times over in the long run. There is nothing wrong with this, but the problem is that there are lots of cheap investments that are cheap simply because they are worthless or have no future potential. In the vast majority of cases, they are cheap for good reason, but very rarely you may be able to spot a stock with high growth potential. This is particularly true of the biotech industry, which is a high risk high reward environment. Investing in the right company with an exciting new drug can turn into a goldmine overnight. In this context, one interesting stock worth looking at is Keryx Biopharmaceuticals (KERX).
Back in April, the company announced that Phase III trials for perifosine, which is a colorectal cancer drug, had not attained its target improvement goals in the chances of survival compared to a placebo. This was the company's flagship drug. The stock price has plummeted since and continues to struggle. The company has declared that it is now concentrating on another drug in its pipeline, Zerenex, which is used for the treatment of chronic renal failure. Zerenex may not have gotten the attention that it deserved earlier because of the focus on perifosine and the fact that Zerenex has several competitors. The stock now appears to be a straightforward play depending on the outcome of successful trials as well as approval by the FDA. The company has around $30 million in cash and a cash burn rate of between $4 million and $6 million every quarter, depending on research and development demands.
Keryx recently jumped over 20% on the announcement that a successful clinical trial of Zerenex has been completed in Japan, with the help of the company's Japanese partners Torii Pharmaceutical and Japanese Tobacco. This may well put Keryx back on the same footing as Valeant (VRX) and Abbott Laboratories (ABT), both of whom have had successful clinical trials for new drugs. The Japanese partners now plan to apply for drug approval in Japan shortly. Keryx is now conducting a Phase 3 clinical trial in the United States, and could apply for FDA approval by the end of the year. The drug is intended to reduce extremely high phosphate levels, also known as hyperphosphatemia, in patients with end-stage renal disease.
Now let's take a look at competitors of Keryx. Allos Therapeutics (ALTH) and New Link Genetics (NLNK) are both working on cancer drugs at the same level as Keryx apart from much larger companies such as Pfizer (PFE). Spectrum Pharmaceuticals (SPPI) is going to acquire Allos in a good deal for both sides, because Spectrum has the resources to enable the marketing and distribution of Fotolyn, which is a promising drug developed by Allos. Spectrum itself has recently had a bad time when a promising drug, called apaziquone, failed to prevent bladder tumors in two different studies, though the drug may still be approved after further trials. New Link and its CEO recently received Prometheus Awards from the Technology Association of Iowa for technological achievements. Treatments like Fosrenol and Calcichew from Shire (SHPGY) are designed to provide the same help to renal disease patients with hyperphosphatemia. Shire has a far more extensive drug portfolio than Keryx.
Spectrum is an attractive investment candidate. The company's objective is to look for treatments for medical conditions for which there are few treatments currently available. It primarily addresses anti-cancer treatments, and has treatments for both urology and oncology. Two of the drugs, Fusilev and Zevain, have been available for a while now. The company also has Chronic Kidney Disease drug candidate, SPI-014 which, if approved, could potentially tap into a $1 billion market.
Another alternative biotech investment worth considering is Arena Pharmaceuticals (ARNA). Arena is awaiting FDA approval after an FDA advisory committee determined that the benefits from its new drug Lorcaserin outweighed the risks. Lorcaserin is a weight loss drug that would be a potential blockbuster in the huge and lucrative weight-loss market because it is a long time since a new weight-loss treatment has been approved and launched. The FDA tends to be nervous about weight-loss drugs and will take time in approving any new treatment.
The trouble with biotech investments is that they are extremely high risk, and conventional analytical and valuation techniques are not much good in studying these investments. You can control your risk by focusing on giant pharmaceutical companies with lots of treatments though you cannot expect the kind of return that it is possible to achieve with smaller biotech companies. Alternatively, you could minimize your risk by picking companies that have several promising drugs in the drug pipeline so that one win is more than enough to offset the losses on the others. Unfortunately, Keryx is, at the moment, a single product company, and these risk management techniques are not applicable.
There is no doubt that Keryx is at the riskier end of the spectrum of biotechnology investments. I believe there is insufficient evidence of future potential, and you should not be buying merely because the stock appears to be cheap. I would recommend watching further developments and buying only when there is a more concrete indication of future prospects. However, the stock is cheap and if you already have some in your portfolio, I would recommend that you hold in the expectation of an upturn.
Disclosure: I have no positions in any stocks mentioned, and no plans to initiate any positions within the next 72 hours.