Assure Software (NASDAQ:ASUR) is an interesting little company and has been on a tear lately. Its shares basically went from $4 to over $6 in five trading days, so time to see what's going on. First things first, what do they do?
Asure Software, Inc. provides on-demand workforce management software and services worldwide. The company's software empowers small to mid-size organizations and divisions of large enterprises to operate efficiently, increase worker productivity, and reduce costs. It offers products that optimize workforce time and attendance tracking, benefits enrollment and tracking, pay stubs and W2 documentation, and meeting and event management. [Yahoo]
In the past it was known as Forgent, a company that was mainly licensing and was involved in what some argued were questionable patent practices (claiming to be the owner of the JPEG image compression standard, for instance), but these days seems well and truly behind us as the company changed focus, name, practices, and much of the board.
Its main products are:
Some basic metrics:
Market cap $31M
5M shares outstanding
Revenue (trailing twelve months, ttm): $12.74
Cash $1.19M
Debt $5.25M
Revenue is jumping this year, largely due to acquisitions: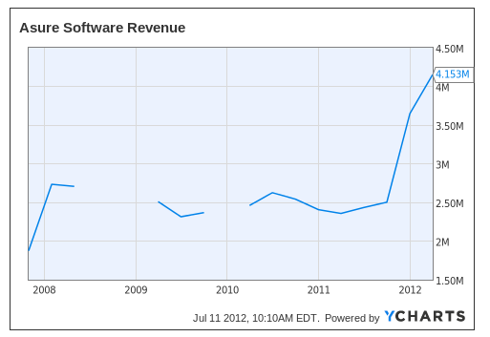 Click to enlarge
You might think it's only a small outfit, but it has some big clients:
Finally, I would be - I didn't talk about our call booking, in fact I invited Mike Kinney on the conference call today and cloud bookings were up 80% year-over-year or - excuse me, sequentially quarter-over-quarter, 40% year-over-year. The big names that we had in the quarter were GE and we had a couple of divisions of G.E. Kaiser, KPMG or Harley-Davidson, Data Financial, J&J, maintenance and moppet. And what was exciting about the client names were we really had clients sign up for our services all over the world. [Q1 CC]
Growth opportunities
The nice thing about being small is that growth is easier. It's looking at the following areas:
Cloud: Many software companies are moving to the cloud and offering their packages as a service (the SaaS model: software as a service). For small and medium sized companies especially this is a blessing, as they don't have to struggle with an internal IT department. Rather than a one-time license fee (and recurring revenues from updates and related services), this moves most, if not all income on a recurring basis
Mobile: The company has started to put some of the functionality on apps, so that clients have access to relevant data on tablets and/or mobile phones
Developing new products, like 'Ocean' the past quarter
Acquisitions, looking for synergies and cross-selling opportunities
The company itself expects quite a lot. This year it expects EPS (without one-time items) to be between 24 and 32 cents, which gives it a P/E above 20, which isn't cheap. However, 2013 guidance (July 5 2012) is very bullish:
$31M revenue, $9M EBITDA, and $7M ($1.30 per share) of free cash flow
If it comes anywhere near that, the shares could be in for a really decent run up. The shares have appreciated already quite nicely: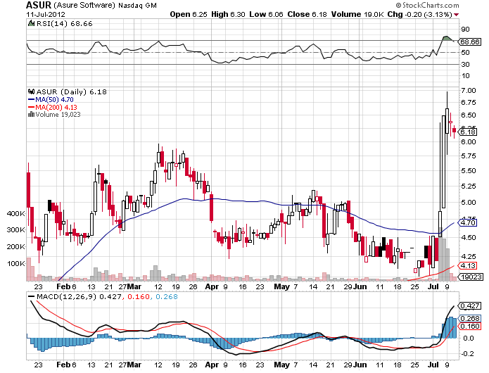 Click to enlarge
Acquisitions
The company's acquisition strategy is looking for companies with synergies and opportunities for cross-selling. While we're generally quite skeptical about acquisitions, we think in this case these cross-selling opportunities, considering the similarity of services that are provided, seem quite real. Some of the latest acquisitions:
PeopleCube (Q2 2012) workplace management applications with 7,500 clients. PeopleCube was bought for $9.8M in cash, a $3M two year seller's not and the issuance of 255,000 common shares (just under 5% of shares outstanding), financed by debt. This seems the reason for the recent strong run-up in the shares
Legiant (late Q4 2011), a provider of time and attendance management software and management services for $4M
ADI Time, a provider of time and attendance software and labor management services
Conclusion
It's a nice little growing company. If management's confidence in this year, and especially the next, materializes, the shares are undervalued. However, as you can see from the graph above, the shares have run up some 50% in less than a week. We would let this situation cool off a bit before we would consider buying.
Disclosure: I have no positions in any stocks mentioned, and no plans to initiate any positions within the next 72 hours.