Goldcorp (GG) tanked this past Wednesday, having fallen nearly 10% on news that the company's production for 2012 would be lower than expected, while its costs would be higher. Its costs could be as high $340 per ounce - a 23.6% increase from the previously expected maximum of $275 per ounce - and its 2012 production estimate was revised to be as low as 2.35 million ounces, a 10% decline from its previous estimate of 2.6 million.
So should investors be concerned? In a word: no. This should be seen as a gift, an outstanding buying opportunity - provided investors who can afford to have their capital tied up until 2016. The only real difference this makes is that Goldcorp may simply take more time to live up to its promise. Its fundamental promise of being a major with outstanding projects in the pipeline and low costs of production remains unchanged. To help make the point, consider these facts:
1. Even at its revised cost per ounce of $340, Goldcorp is almost 50% below the industry average - which was reported to be $662 last year, and will likely trend higher as gold discoveries continue to decline.
2. Goldcorp still has enormous growth in its future. The company is slated to have a new mine in production each year through 2015, and thus is likely to see its production grow by 60% over the next three years.
3. And of course, last but certainly not least is the price of gold itself, which is why we're interested in Goldcorp in the first place. Last week esteemed gold trader and entrepreneur Jim Sinclair made his next big call for gold, expecting the market to reach its peak between 2013 and 2015 and for the price to be a minimum of $3,500. I consider this forecast to be a high probability one, and think the price target is conservative; given the severity of the debt problem and that we are seeing more and more signs of gold returning to the monetary system, I think a five figure price is not out of the realm of possibility. Of course, it is always prudent to err on the side of conservatism rather than suffer the inevitable fate that awaits those who succumb to greed, but the point remains: the best is yet to come for gold. Through this simple fact alone, the future for Goldcorp looks bright as well.
Below is a chart of Goldcorp's price activity. Today we saw a big spike in volume, and price fell near support; these two facts lead me to think selling may be exhausted. I consider it reasonable that price will dip briefly below $33, but overall, this strikes me as an excellent buying opportunity for those with the patience and capital needed to hold this position through the end of 2015.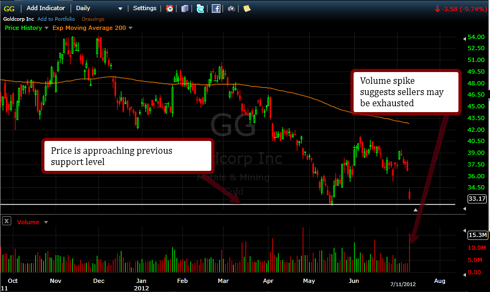 Personally, I already have enough Goldcorp to satisfy my desire and was not expecting to buy more - although this unexpected decline has got me reconsidering. For those who don't have a position in Goldcorp yet, though, I think it is an outstanding opportunity.
Disclosure: I am long GG.