The highly profitable mobile phone services business has started to mature and become saturated. In order to reduce customer churn and attract new subscribers, cell phone operators have begun offering flat-rate all-you-can-eat service pricing plans. Following Verizon (NYSE:VZ), AT&T (NYSE:T) and T-Mobile's steps in this direction, Sprint's (NYSE:S) $99 flat-rate plan is changing the landscape when it threw in data in addition to voice and text messaging, according to ABI Research.
Flat-rate plans encourage unlimited use of file transfer, email, web surfing/browsing, as well as digital images, music, video streaming, downloading and uploading. As the utilization increases, the backhaul becomes the bottleneck, which usually is traditionally connected by T1 services that cost about $250/month, but sometimes take months to install and put into service. As use of such sites as YouTube, available on all Web-enabled handsets, increasingly puts a heavier burden on the networks, particularly its backhaul. Reduced data rates and accessibility to subscribers seem to be inevitable unless backhaul capacity upgrades to 3-4 T1 lines quickly. For the forthcoming 4G mobile services, it may take 10 times of the capacity.
However, to build a fiber connection, it will cost about $50-100k, assuming the network is within 500-1,000 feet of a tower, which may not be cost-effective. Most remarkably, there are about 200,000 cell towers around the country according to estimates. Here, fixed-wireless may come to the rescue to provide a fast and economical alternative to fiber for mobile backhaul.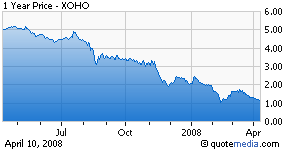 XO Holdings (OTC:XOHO) is the largest owner of LMDS spectrum in the nation. During the past year, Nextlink, the wireless operation of XOHO, expanded broadband wireless coverage to 36 operational markets, built relationships with major, nationwide mobile wireless carriers, initiated a nationwide spectrum license preservation program, and expanded its reseller program to twelve partners, including a nationwide reseller agreement with Global Crossing (NASDAQ:GLBC). The broadband wireless service can provide speeds of up to 155 mbps covering an area of 12 miles radius of line-of-sight. Recently, both Covad and NextPhase start to lease LMDS spectrum, or the Hi-Cap as Covad calls it, from Nextlink/XO.
Even with all the heating up of this market of late, XO is seemingly less enthusiastic about its fixed wireless business as CEO Carl Grivner's interview with TelephonyOnline indicated: "We do sell broadband wireless, but the market is not really taking off yet. People are buying it for diversity and testing it. I think it's still three to five years away."
It is also a mystery why XO is satisfied with just leasing out cheaply instead of maximizing the money it makes with its "Hi-Cap" services, especially XO has all it needs to earn in higher margins: the sales force, the service trucks, the integration and enterprise services expertise and the connection to the fiber net.
The support of XO Communications' network footprint includes over one million fiber miles, 3,000+ on-network buildings, 950+ central office co-locations and media gateways serving over 75 major metropolitan markets. These are connected by a new Infinera-equipped 18,000 mile next generation nationwide Inter-City fiber optics network across the nation. Also put to the task is XO's direct sales force and over 500 third party national, regional and local agents and agency firms, making the cross-selling and up-selling opportunity overwhelming. The savings in XO's operational expenses are also attractive. Further, the investment required for hub constructions would be minimal. The mere additional equipment needed is the radio customer premises equipment [CPE], only when the contract is signed - with zero risk. That's the beauty of wireless and "success-based investment".
"Why settle for just the spectrum-license piece when they could have it all?" as someone wrote on an Internet message board.
Perhaps, it is time for XO to re-price the employee stock options from the current exercise price of 5+ (filed in March 2008) to have the executives more motivated.
Disclosure: Long