It remains to be seen whether the recent uptick in banking and financial stocks will last, as there's still plenty of potential for these beaten-up stocks to get pounded some more.
Some of the key underlying causes of the current economic situation came from the sector: the subprime crisis, the credit crunch, mortgage defaults and billions of dollars of balance-sheet hits. All of which combined to cause a lot of pain in bank stocks and PowerShares Dynamic Banking ETF (NYSEARCA:PJB): PJB is down 24% from its October 2006 inception.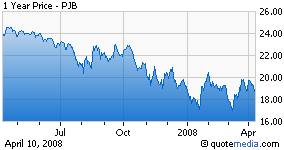 But the sector and the fund have turned around recently. PJB posted a 13.8% gain over the month ended April 4, and Morningstar's Specialty-Financial group had the second-best one-month return of 18 domestic stock categories. PJB shot up our PowerShares Momentum Tracker Sector Momentum Table in the last four weeks, jumping 19 spots from 52nd (out of 68) on March 12 to 33rd last week. One thing is certain. PJB has taken a beating, especially over the last year. The fund closed out 2007 down 22.3% and finished among the bottom tenth of financial ETFs.
Morningstar classifies the fund's top-ten holdings into four industries, all of which rank among the worst of 129 categories over the last year (as of April 7). Savings and loans (down 30.6%) was the fourth-worst performer, super-regional banks (down 21.9%) was 14th worst, regional banks (down 19.3%) was 19th worst and international banks (down 17.7%) was 23rd worst.
Over the last month, the four industries posted an average return of 9.5%. And PJB's 11.4% return through March 31 placed it among the top 5% of its Morningstar category, a full 8% better than the S&P 500. Those kinds of jumps are to be expected in a sector that's struggled so mightily—at this point, the absence of terrible news for a day or two could bring a spike.
While there's still no shortage of banking bears on Wall Street, some contrarian investors—most with longer-term views—seem to be turning to bank stocks and financials in the wake of Fed rate cuts and other actions to help the industry's biggest players.
A March report from S&P found that smaller regional players—the small and mid-sized banks that make up PJB—could be the choice for investors looking to play a financial-sector rebound, as opposed to large diversified banks.
The report studied bank performance during and after the 1990-1991 recession and cited seven banks as best positioned to withstand the ongoing credit crisis, because they have the "highest percentage of allowance (reserves) to nonperforming loans." Of the seven, six were among the 30 stocks held by PJB, including No. 1 holding New York Community Bancorp (NYB), No. 3 UnionBanCal (UB), No. 5 Northern Trust (NASDAQ:NTRS) and No. 10 Westamerica Bancorp (NASDAQ:WABC).
All but Northern Trust have seen stock prices rise year to date, and all four are up over the last 30 days, by an average of 13.6%. Shares of Westamerica, which operates in northern and central California, gained 25.2% year to date.
That's certainly not to say that bank stocks' recovery will be quick, or easy. "The challenges facing U.S. regional banks have not gone away, and we think it may take several more quarters before they are resolved," S&P's Erik Oja said in early April (as quoted on businessweek.com). He added that because of write downs, banks might need to raise or conserve capital this year, by stopping repurchase programs and freezing or even lowering dividends.
On the positive side, S&P expects the Fed's "rate cuts and other actions to inject liquidity into the banking system," he said, easing the difficulties some banks have had funding loan portfolios. S&P also sees M&A in the sector resuming in 2008.
Outside of regional banks, the fund holds a big stake in No. 2 holding JPMorgan Chase (NYSE:JPM), which carries a $152 billion market cap, compared to the fund's $3.9 billion average. The firm, of course, injected itself into the headlines by buying Bear Stearns (NYSE:BSC) for $240 million, flexing the muscle of its balance sheet and capital position, strengths that might allow it to skirt through the ongoing crisis and find opportunities for growth, according to Morningstar's Ryan Lentell.
Still, trying to predict the bottom of a long-running trend in a sector is difficult at best. Some might argue that it's foolish. Even the S&P report warned that "we think there may still be further downside" and noted that bank indices haven't yet reached the 50% declines of the 1990-1991 recession. While it bears watching for further momentum going forward, PJB is best viewed as a niche player in a portfolio, and one most likely best used as a long-term play.