There has been some big news in the US wireless arena lately. Verizon (NYSE:VZ) and AT&T (NYSE:T) won the auction of some new wireless spectrum, Google (NASDAQ:GOOG) did not win the spectrum (see the details in the following NY Times article). Do you know how much Verizon paid for the new spectrum? $9.6 billion. Imagine a similar scenario in China: how much does the 3G license cost in China? As far as China Mobile (NYSE:CHL) (and China Unicom and Telecom) is concerned, it's null, zero, no cost.
What? You must think this is crazy. How come the government gives away the license for free? Well, the No. 1 reason is the government is the biggest shareholder of all those big wireless/telecom companies. If they charge a big fee, essentially they are switching money from their left pocket to their right pocket, so why bother.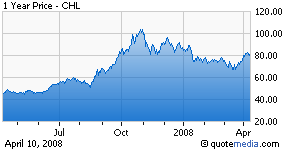 Moat analysis
What does China Mobile (CHL) have going for it?
1) A top 10 Chinese global brand, which consists of 3 sub brands: GoTone/quan qiu tong (white collars), shen zhou xing (everyone) and dong gan di dai (mobile internet).
2) A national distribution channel, including rural areas.
3) A network (behind the scene) - I got a signal when I was in Jiu Zhai Gou (May 2005).
4) Management: Wang Jianzhou and his team has experience both in industry and the government. Note the latter one is also important, because in China government has the final word on a lot things (such as giving away spectrum or 3G licenses).
The potential downside
The biggest worry is the government recently made China Mobile pick up the slack for the deployment of the domestic brewed 3G standard TD-SCDMA (Wiki). Some people worry CHL will waste lots of money on TD/3G deployment, without consumers' ultimately buying in. Because in China consumers always want the best (usually not the domestic) technology. This is evident in the popularity of foreign products in cars, handsets (Nokia, Samsung), MP3 players (Apple), etc.
Spam SMS
A portion of SMS sent everyday is spam. This has been reported in the Focus Media wireless division's recent spam SMS scandal, in which millions of spam messages were sent to consumers. China Mobile and vowed to stay clean of all this. But we know they make money even from spam messages, so there is a conflict of interest here.
Disclosure: Long CHL