In early May of this year I published an article an article at Seeking Alpha, and in Yahoo and other venues. The article was titled, "Chart: The S&P And 'Sell In May' In An Election Year." In this article I presented a graphical illustration of the professionally favored and broadly watched large cap stock market index, the S&P 500 (index SPX, ETF SPY).
The chart of the SPX I presented in the article was well-received across publication venues. I used it to help illustrate the significant and potentially recurrent effects on the price level of the SPX by the presidential election cycle and by the congressional election cycle.
"The SPX is the favored index used by professional analyst and investment managers domestically and globally. It is the predominate and most representative measure of the U.S. Large Cap Securities Market."
In the article and in the chart illustration my discussion focused on the particular relevance and its graphical illustration this year of the old Wall Street adage "Sell in May and Go Away." Below is a copy of the chart from the article:
SPX 10-Year Weekly OHLC Chart

As it turns out, the article and chart illustration, and their cautionary subject matter proved to be very timely at the beginning of May this particular presidential and congressional election year.
SPX 10-Year Weekly OHLC Chart Update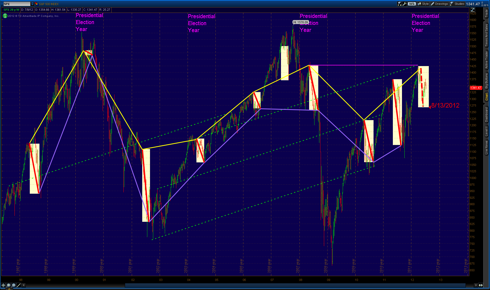 Click to enlarge
(Click to enlarge)
At the beginning of June, based on additional yet subsumptive echovector analysis, I subsequently put out alerts stating that June would be a more positive month for the stock market, with a partial bounce-back in prices coming, but that July and August remained potentially precarious. June did bounce back.
I followed up with a strong alert the first week of July, stating that a "second wave down" to the one that began in May was imminent. As it turned out, this alert was also extremely well timed. A question that's now being asked in light of June's partial bounce-back and July's beginning weakness, is, "Should I Stay Away If I Sold In May?" And, "'If I didn't sell in May," the question becomes "Should I sell now, going into the second half of the summer and the fall election cycle?"
These are very good questions. And ones I re-visited briefly at the end of May in my additional article titled, "The S&P: Is More Correction Coming?" I stated then that my data indicated that, "the average correction within the present presidential cycle has been about 225 points on the SPX, with the exception of year 2009, likely from the extreme price downdraft and regime change correction the prior year in 2008."
225 points comes to between 15% and 18%, depending on whether you are measuring from 1425 as you would be this year, or measuring from 1200 as you would have in 2010.
This May 2012 market year correction has so far been about 125 points from the yearly highs reached in April. This is about a 9% correction. This indicates a good 7% to 9% more downside may be left in this correction going forward into the summer, and possibly into the fall.
And, if this year turns out to be a regime change year, the correction could even be greater, especially if recent presidential cycle history has any bearing on the matter ...
Although the market bounced back rather nicely in June, it is still trading within a range that indicates that not even the extreme regime change cycle outcome has been mitigated.
Therefore, I believe reason for caution in the major equities market still very much exists, that a downside price bias in trading is in effect, and that "Staying Away If You Sold In May" is still likely a prudent course of action, at least until about the middle of August, but perhaps longer. Maintaining portfolio value insurances from the end of April remains warranted.
A close look at the SPX chart, zooming in and focusing on the current congressional cycle, and the active bi-annual, annual, and quarterly echovectors in this current cycle, hint at the trend bias towards further weakness in the market on both a time basis and a price basis before support is likely found. This is well illustrated in the following chart.
SPX 2-Year Daily OHLC Chart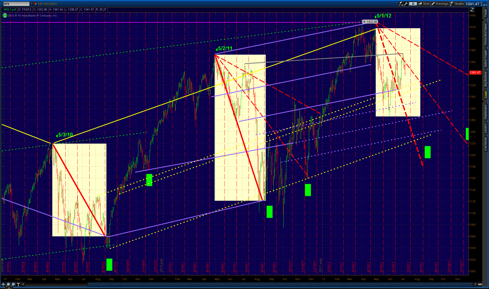 Click to enlarge
(Click to enlarge)
I hope this presentation helps to support the case for "Still Staying Away," and also for continuing the application of portfolio value level insurance strategies that might have been applied in late April upon the my first wave selling pressure alert, and/or last week upon my second wave selling pressure alert, with regard to major stock market composite index based funds and ETFS during this time of year, and particularly during federal election years like the present one.
Disclosure: I am short SPY.