GE missed! They never miss!
Not a little miss, mind you, but a 7-cent miss (out of .51 expected) that is sending their stock down 10% pre-market, knocking off $36Bn in market cap and pretty much freaking out the entire market.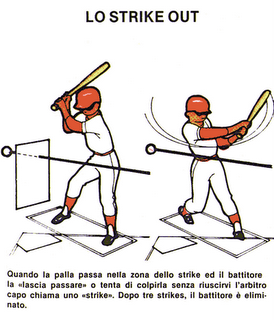 I'm very excited, this will be a great chance for us to take out our callers and, in looking over the report, I have to agree with Jeff Immelt, who says the miss is a "bump in the road" as the company took hits (just like every other major financial) in financial services and health care, leading to an overall 6% drop in profit. GE's financial services businesses were hit hard, and Immelt said the Bear Stearns situation accounted for 5 cents of the 7 cents a share by which the company missed earnings estimates.
Since the BSC issue came up during GE's "quiet period," it was too late for the company to post a warning. So much will be made today about how GE is usually right on the money and even they didn't see this coming, but it's simply not true; it was an accident of timing and is no reason to panic.
The possibility that GE's results might not be up to par came to mind in late March, when GE agreed to sell its commercial card and corporate purchasing business unit to AXP. GE said it was selling the business as a step to prepare for its exit from the private-label credit card business, as part of an asset-sale plan announced in December, Reuters reported. But the $1.1 billion deal, which was announced on the afternoon of March 27, was "expected to be completed by the end of the month," the American Express press release said - an unusually fast closing that suggested to the conspiracy-minded that GE might have been looking to book a quick gain that would make its first-quarter numbers look healthier. Obviously, it didn't work out that way…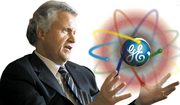 Infrastructure profit climbed 17% and NBC Universal's profit rose 3% and GE generated 8% more orders, to $24 billion, and its equipment backlog climbed 41% to $52 billion. GE lowered its 2008 profit target to a range of $2.20 to $2.30 a share, with second-quarter earnings pegged at 53 cents to 55 cents a share. Analysts had expected annual earnings of $2.43 and second-quarter earnings of 58 cents a share, so we are talking about a less than 10% dip in earnings caused by what is, hopefully, a one-time event. This is a good time to get back into GE, who got kicked out of our Long-Term Portfolio when they became overvalued at $41 but are looking very attractive back at the 2004 levels, when the company had 25% less sales and 33% less income.
So it doesn't matter that the Nikkei gained 3% this morning or that the Hang Seng added 2% in a strong session - they didn't know GE would miss, poor bastards, and will very likely snap back on Monday, triggering a possible sell-off here by traders who forget which way the world spins. This is going to be very exciting. I think we'll take a fun put on the FXI, which won't go down because the Hang Seng had such a good day which should give us a good opportunity to pick up the $143 puts for $2.50 or less as a gamble that we get a 1,000-point drop on Monday. If our markets recover, that trade is void, of course.
Today is going to be a good time to review our article on mattress plays as we're going to need a parachute for today's open. But this is why we always keep index puts on our larger portfolios and also why we got rid of all of our April calls (not callers) 2 weeks before expiration - it's very hard to recover from a big dip like this in just one week!
Europe went off a cliff on the GE news and is down about 1%. We'll see if the DAX can hold the critical 6,600 level, but the FTSE toppled right below 6,000 and that's not good… At home, we're just hoping to hold onto 12,450 and recover to 12,500 but that is not going to happen if today is the day that Exxon (NYSE:XOM) and Chevron (NYSE:CVX) finally decide to pull back.
Import prices have jumped to a 14.8% year-over-year increase, up another 2.8% in March alone. Since last March, prices are up 15%. Oil accounted for 9.1% of last month's increase with prices up 60% in 12 months while the price of all other imports rose a still-alarming 1.1% in March alone, accelerating rapidly over the 12-month pace of 5.4% and nearly double the 2.8% pace from March '06 to March '07. This is yet another Bush economic record-breaker, the highest level of inflation since the Import Price Index was first published in 1988 - Mission Accomplished!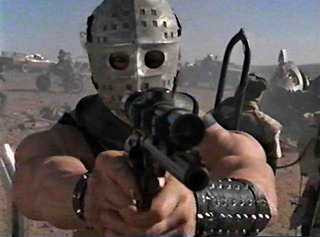 You might think that a market melt-down of this magnitude would cause the price of oil to dip as clearly the global economy is off kilter but, au contraire - they are up again! That's right, it NEVER ends and, as long as we sit here and take it, the energy traders will continue to suck every last penny you have out of your wallet until our planet makes Mad Max look like a vacation film…
We're already short on energy stocks and we're going to go shorter this morning if they are foolish enough not to turn down in the fact of this market sell-off, AND in the face of the IEA cutting its global demand outlook yet again, with this downward revision coming in the steepest in 7 years. Despite Bush's 125,000-barrel-a-week troop surge and his monthly stuffing of the SPR, the IEA is trimming another 460,000 barrels A DAY off their global demand projections.
Suncor(NYSE:SU) is one of the ones to gather puts on. They are being hammered by high natural gas prices and are priced for $100 oil to persist through 2008. We already have plays in SU but they are likely to be the slowest to drop. Needless to say, we will be taking off our remaining putters if we get a reasonable chance to.
Let's be very careful out there, but we'll take the opportunity to take out some callers on the spike down. We need to maintain half cover on low strikes into the weekend, so we'll need to roll accordingly if we don't recover by the afternoon.