I screened with Finviz for companies that have higher than 10% dividend yield and checked if the companies had any insider buys during the last 3 months. This article is an extension to my previous article written on July 9th. Here are the five additional companies that I found:
1. NorthStar Realty Finance Corp (NRF) is a finance real estate investment trust that originates, acquires and manages portfolios of commercial real estate debt, commercial real estate securities and net lease properties. In addition, NorthStar engages in asset management and other activities related to real estate and real estate finance.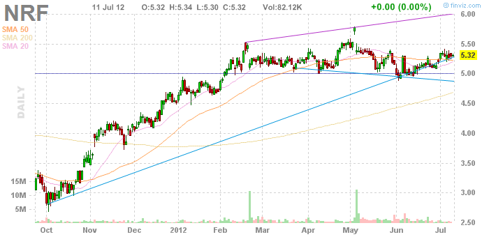 Click to enlarge
(Click to enlarge)
Insider buys
2. New York Mortgage (NYMT) is a real estate investment trust (REIT) that acquires and manages primarily real estate related assets. These include Agency and non-Agency mortgage-backed securities, high credit quality residential adjustable rate mortgage loans, commercial mortgage loans and other financial assets.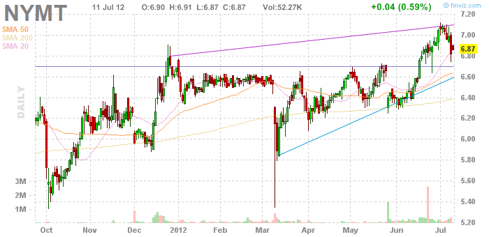 Click to enlarge
(Click to enlarge)
Insider buys
3. Otelco (OTT) headquartered in Oneonta, Alabama, provides wireline telephone services in Alabama, Maine, Massachusetts, Missouri, New Hampshire, Vermont and West Virginia. The company's services include local and long distance telephone, network access, transport, digital high-speed data lines and dial-up Internet access, cable television and other telephone related services. With more than 100,000 voice and data access lines which are collectively referred to as access line equivalents, Otelco is among the top 25 largest local exchange carriers in the United States based on number of access lines. Otelco operates ten incumbent telephone companies serving rural markets, or rural local exchange carriers. It also provides competitive retail and wholesale telephone services through several subsidiaries.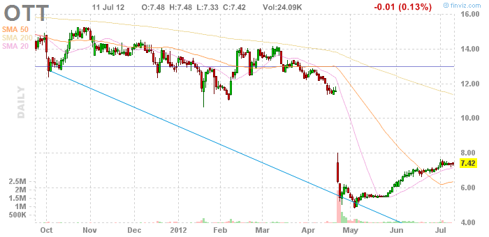 Click to enlarge
(Click to enlarge)
Insider buys
4. Pitney Bowes (PBI) provides software, hardware and services that integrate physical and digital communications channels. Long known for making its customers more productive, Pitney Bowes is increasingly helping other companies grow their business through advanced customer communications management. Pitney Bowes is a $5.3 billion company and employs 29,000 worldwide.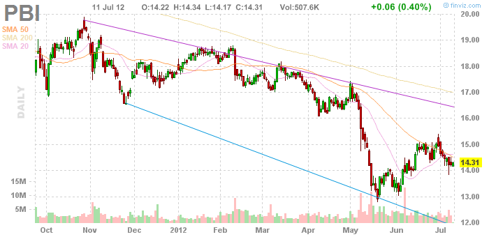 Click to enlarge
(Click to enlarge)
Insider buys
5. QR Energy (QRE) is an upstream Master Limited Partnership (MLP) focused on delivering stable cash flow and growth to its limited partners through the exploitation of onshore oil and gas fields in the United States.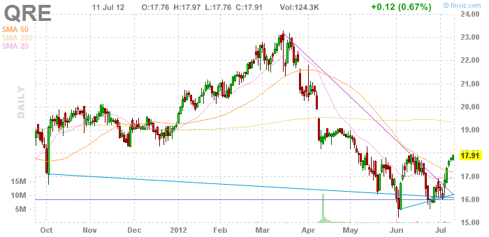 Click to enlarge
(Click to enlarge)
Insider buys
Conclusion
Shares of NorthStar Realty Finance and New York Mortgage are currently very close to their respective 52-week highs. Shares of Otelco, Pitney Bowes and QR Energy on the other hand are close to their respective 52-week lows.
Disclosure: I have no positions in any stocks mentioned, and no plans to initiate any positions within the next 72 hours.