We are bullish on France Telecom (FTE), as it has successfully slowed the decline in its revenue, despite competitive pressures from its peer, lliad. Spain and Egypt have shown exceptional growth over the years, and continue to perform well. Moreover, we believe that the current valuations for the company are excessively depressed and a further slowdown in its revenue decline is likely to push its valuations higher. It has a very attractive dividend yield of 13.1%, which is very much sustainable and backed by its free cash flow yield of 20%.
France Telecom provides mobile, internet and telephone services to its customers worldwide. As of the first quarter ended March 2012, the company had operations in 33 countries with a customer base of almost 225 million. The company's single largest brand, Orange, provides services in a majority of the 33 countries. FTE is a $33 billion worth company and currently its stock is trading at a 50% discount to its 52-week high.
Operating Performance
The company has various segments operating in France, Spain, Poland and the rest of the world, with services in France contributing to almost half of its revenue. FTE's revenue in the first quarter was approximately 11 billion euros, declining by 2% compared with the first quarter of the previous year. This overall decline in revenue was largely due to deteriorating results in France and Poland. France saw an overall decline of almost 4% in both personal and home revenue, which decreased by 1.1% and 4.2% respectively. This decline was primarily caused by the recent entry of another telecom company, Iliad, in France. The low prices and packages currently being offered by lliad are putting immense pressure on FTE's revenue and the company's mobile base, both prepaid and postpaid is contracting as a result. This contraction is evident in its 1.1% decline in personal revenue.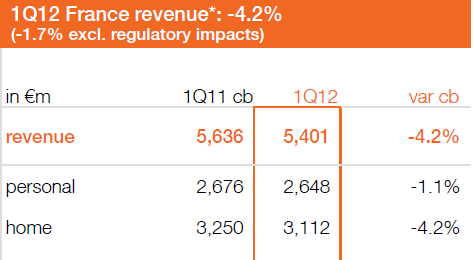 Source: Company presentation
Due to lliad entering the market, the mobile revenue losses became very pronounced in the first quarter, however, the company was able to offset the slowdown from growth in its SMS and internet browsing revenue. Moreover, the company has also been in talks with other telecom carriers in France to extend its roaming arrangements. Previously, the company had signed roaming arrangements with FreeMobile for its respective mobile networks. FTE had expected the arrangement would bring in revenue in excess of $1 billion, however, according to a recent news report, the company's chief executive estimates the revenue addition from its roaming agreement to be almost $2.6 billion. This could potentially bring a turnaround for the company and further slowdown its revenue decline.
Despite home revenue declining in the first quarter, revenue from the company's broadband improved by a healthy 5.6%, adding over 360,000 customers. This improvement was largely due to the company's attractive "Triple Play" package that provides internet, voice and television services for a competitive price. Even though its competitors are offering the same package for a relatively lower price, the improved sales of its triple play package are continuing to reflect positively in its home services sales. There are un-validated rumors about the company launching a quadruple play service, however, no announcement has yet been made by the company's management. If the company does however go on to offer such a package, it will be the second company to do so after its peer Bouygues Telecom. The company was able to increase its average revenue per user for its broadband services, showing an improvement of over 1% from the previous quarter of the same year.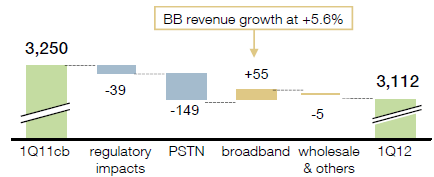 Source: Company presentation
Spain has been among the better performing regions for the company. In the quarter ended March, 2012, the company saw sales rise by almost 5%, excluding regulatory measures. The region showed tremendous growth in its broadband services, with revenue from broadband increasing by 17% in the first quarter. Moreover, smartphone customers using the company's network doubled in number, reaching almost 4 million. The region's ADSL subscriber base is also expanding with an accompanying rise in its average revenue per user.
Financial Strength
The company has a cash balance of almost $11 billion as of the most recent quarter, and a higher cash per share than its peers. It has total debt of almost $50 billion and a high debt-to-equity ratio of 140%. However, it currently has a stable outlook on its debt with long-term debt ratings in the A region from Moody's and Fitch. Moreover, it has the cash flow strength to bear the current debt burden.
Dividend Yield
FTE has a very attractive dividend yield of 13.1%, which offers great income potential to yield-hungry investors. The company has produced healthy operating cash flows year over year, however, recently it has been on a decline. In the year ended 2011, the company paid total dividends of almost $5.7 billion while generating operating cash flows from operations of $17 billion, indicating the strength in its operations, as well as its ability to continue making its high dividend payments going forward. Moreover, its free cash flow yield of almost 20% towers over its yield of 13.1%, further signaling the company's ability to sustain its payout ratio of 86%.
Key Risks
lliad's entry into the telecom market may bring about a slowdown in FTE's revenue. The new entrant is charging low prices to its mobile subscribers, which is already hurting FTE's margins. Going forward, its revenue can be expected to be adversely affected.
The company proposed a dividend cut in June, however, the proposal was rejected by a vast majority of its shareholders at the company's annual meeting. The proposal was initially made in light of margins falling because of competitive pressures.
Valuation
FTE's stock is currently trading at cheap valuations, which is evident in its P/E multiple of 7x, a discount of 37% over its industry average. Moreover, it is at a major discount to its 5-year average of 16.5x. Its U.S counterparts AT&T (NYSE:T) and Verizon (NYSE:VZ) are trading at forward earnings multiple of 16x and 14x, respectively. For FTE, other multiples like P/S and P/B are also currently depressed. The stock is currently trading close to its 52-week low of $11.7, and we recommend it to be a good entry point to take a long position in the stock to take advantage of price appreciation and dividend yield.
| | | | |
| --- | --- | --- | --- |
| | France Telecom | Inmarsat Plc | Industry |
| | | | |
| P/E(ttm) | 7.1x | 14x | 17x |
| P/S(ttm) | 0.6x | 2.4x | 1.4x |
| P/B (mrq) | 0.98x | 3.1x | 1.5x |
| P/FCF(ttm) | 11x | 16.7x | 22.5x |
Disclosure: I have no positions in any stocks mentioned, and no plans to initiate any positions within the next 72 hours.