I wanted to address some issues that have been expressed in the comment section to my article on Town Sports International Club (NASDAQ:CLUB).
The Company's financial position:
Town Sports reports long-term debt of $305.124 million as of year-end 2007. Not an insignificant debt load for a company of its size. However, the company interest coverage ratio is 2.26 for 2007. This coverage ratio provides the company with an important amount of leeway in regards its debt interest payments.
This financial leeway was increased by the new senior credit facility the company signed in 2007. The senior credit facility and revolver carry substantial lower rates than the notes they refinanced. Looking at the terms of the facility, at current levels the company is paying less than 8% for the loans. A competitive rate in this credit market with disruptions banks are experiencing. The fact the loans are based on a Euro-libor rate, which is falling, should help CLUB's interest expenses decline as global rates decrease.
It is my hope that the company continues to refinance their existing bonds with these lower facilities. And as cash flow improves as the new laundry facility comes on line in the next year, and new clubs start to contribute more revenue, that the company can initiate a strategic buyback using the credit available under the facilities.
In addition, as the chart below makes clear, the company has small debt repayments in the next 5 years as it grows its base of clubs. These repayments should be easily met from cash flow from operations, as the company generated $82.9MM in cash from ops in 2007. After paying the debt due in 2008 and spending approximately $19MM in maintenance cap ex, the company has approximately $52MM for expansion from self-generated cash flow.
Chart 1: Debt Repayment by Year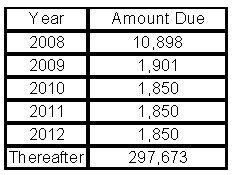 Further, while technically speaking the present value of the company's lease payments should be included as debt, I believe it's more instructive to look at its lease payments as a function of revenue. The company's rental expense plus utility payment as a percentage of revenue has been stable in the 33% area the past three years. Looking at the PV of future rental, this ratio should be stable to declining over the next 5 years as a percentage of revenue:
Chart 2: PV of Leases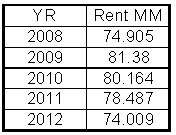 This to me is an important metric as it shows that CLUB has been disciplined in managing its acquisition and build-out, as rents is the major fixed cost for the company. If the fixed-cost driver is controlled than any cost saving from the new laundry facility, or incremental revenue for training sessions or increased membership cost can flow to the bottom line.
Finally, CLUB is also a small capitalization company ripe to be acquired. Looking at the last major acquisition in the space, Related's buy of Equinox, is instructive. While it's hard to get exact numbers due to the private-transaction nature of that deal, it is reported that the deal was done at approximately 5X EBITDA. If we assume that CLUB should be sold at a discount due to its lower-end market focus and high debt levels, we can assume a sale at 3.5X EBITDA (a 40% discount). This would value CLUB at $14.05 per share or at 6.34X EV/EBITDA, a compelling value.
I continue to slowly add to my position in CLUB and expect over the next 2-3 years to see significant returns.
Disclosure: Author has a long position in CLUB