By Brendan Gilmartin
Johnson & Johnson (JNJ) is slated to report 2Q 2012 earnings before the bell on Tuesday, July 17. The earnings release is expected to come though at approximately 7:45 a.m. EST with a conference call to follow at 8:30 a.m. A member of the Dow Jones Industrial Average, J&J has significant market influence and the potential to impact the broader market gauges. Also note that no other major companies report at the same time as J&J, making the trade signal relatively clear.

Outliers & Strategy
Key measures:
Adjusted Earnings Per Share & Earnings Per Share Excluding Items: The values for both measures are typically the same and are comparable with consensus estimates. The current Street estimate is $1.29 (source: Yahoo! Finance).
NOTE that on 6/8, J&J disclosed plans for a $600mln charge related to legal matters. EPS Ex-items is therefore more likely to be the comparable value.
Revenue: Revenue is seen rising 0.7% year/year to $16.72 bln.
Adjusted Earnings Per Share Guidance / Earnings Per Share Guidance (FY2012).
Back in April, J&J announced adjusted earnings guidance for full-year 2012 of $5.05 to $5.17 per share.
Adjustments to this outlook could have a profound impact on the index futures and the underlying shares.
Recent News
06/13: According to a report on Barron's Online, JP Morgan upgraded J&J from Neutral to Overweight and raised the price target from $69 to $74. The report cited the takeover of Alex Gorsky as CEO, nearly 4% dividend yield, and sum-of-the-parts valuation.
06/13: Jefferies upgraded J&J from Hold to Buy and raised the price target from $68 to $72, according to a post on Benzinga. The upgrade was based on the accelerated share repurchase program and favorable impact to earnings announced mid-June.
06/12: J&J announced it now expects the $19.7 bln acquisition of Synthes, Inc. (closed 6/14/2012) to be accretive to 2012 earnings, thanks to an accelerated share repurchase program. The prior expectation was for a loss of $0.22.
06/08: J&J expects to incur a special charge in the 2Q of approximately $600 million for legal reserves related to the previously disclosed litigation matters related to RISPERDAL® (risperidone), INVEGA® (paliperidone), NATRECOR® (nesiritide) and Omnicare.
04/26: J&J declared a 7.0% increase in the quarterly dividend to $0.61 per share. The shares are now yielding 3.60%.
Technical Review
J&J shares recently broke out to a four-year high, making it among the top-performing names in the Dow 30. In light of this strength, there is no near-term resistance. However, the Relative Strength Index (RSI) is now well above 70 - a level considered overbought, while the MACD is also a bit extended. If earnings fail to meet lofty expectations, there is downside risk to support at $66.50 (April high), followed by the 50-Day SMA near $65.00.
(Chart courtesy of StockCharts.com)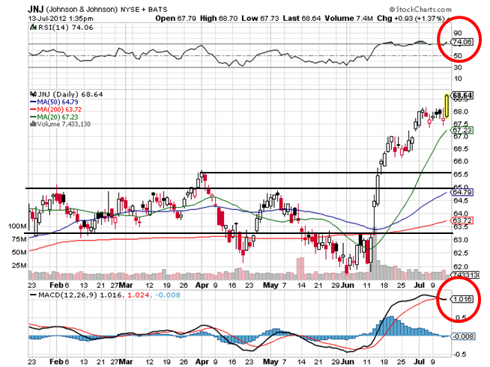 Summary
J&J shares are near an all-time high headed into the 2Q 2012 earnings release, stemming from optimism regarding the leadership of newly minted CEO Alex Gorsky, an accelerated share repurchase program in mid-June, a solid 3.6% dividend yield, and valuation. Technically, however, the shares look to have priced in much of the positive news after rising close to 10% since mid-June, while several technical oscillators are registering overbought conditions. Ongoing legal issues from the past several years and talk of a worldwide economic slowdown are additional concerns. Guidance for the balance of the year will be the focal point given recent strength.
Disclosure: I have no positions in any stocks mentioned, and no plans to initiate any positions within the next 72 hours.
Disclaimer: By using this report, you acknowledge that Selerity, Inc. is in no way liable for losses or gains arising out of commentary, analysis, and or data in this report. Your investment decisions and recommendations are made entirely at your discretion. Selerity does not own securities in companies that they write about, is not an investment adviser, and the content contained herein is not an endorsement to buy or sell any securities. No content published as part of this report constitutes a recommendation that any particular investment, security, portfolio of securities, transaction or investment strategy is suitable for any specific person.