After today's warning from Lexmark (LXK), it appears the dusk age of printers is imminent. JP Morgan's Mark Moskowitz reiterated an "Underweight" rating on Hewlett-Packard (HPQ) and even went so far as to suggest HP "break it up".
Should HP do it?
I believe the answer is definitively "no". After Meg Whitman became the CEO, she combined HP's PC and printing groups together. HP currently has five major business groups:
· Enterprise Storage and Servers - "ESS"
· Services - "HPS"
· HP Software
· Personal Systems & Imaging and Printing Group - "IPG" and "PSG"
· HP Financial Services - "HPFS"
Its software and financial services are insignificant. In this article, I shall only focus on HP's server and storage ("ESS"), service ("HPS"), and PC/Printing groups. The following chart shows the operating income from each of HP's business groups. PC and printing combined accounted for $6.3 billion in operating income, which is a large share within HP.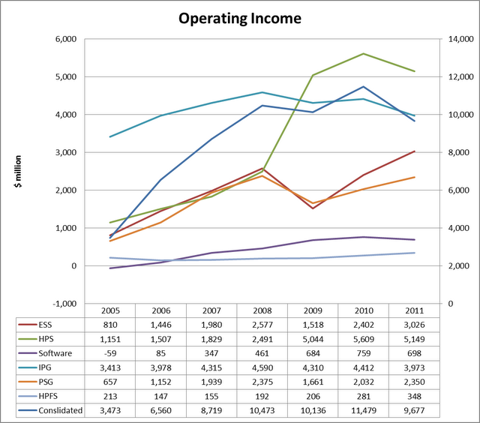 Using the BCG growth-share matrix, one can easily see HP's current situation:
Star
N/A

Problem child
Service ("HPS")
Enterprise server and storage ("ESS")

Cash Cow
Printing & PC

Dog
It has no "star". Its future lies in two "problem children": service and server/storage. Its printing and PC businesses are still "cash cow" but over time will likely become "dog".
Currently, HP's goal is to move its problem children, service and server/storage to become "stars". Rapid expansion in these two sectors requires lots of cash. HP's cash cow (printers and PC), albeit in decline, is very important in supplementing the cash needed for HP to complete its transition from a hardware oriented company to a service focal company. Similar strategy, using hardware cash to feed future service growth, can also apply to another PC giant, Dell (DELL).
Therefore, HP should not break up its slowly declining PC and printing business -- at least not now. They play a crucial role for HP to become an important player again in the tech arena.
Disclosure: I have no positions in any stocks mentioned, and no plans to initiate any positions within the next 72 hours.