It certainly was an interesting week in the market. After losses in the first four trading days of the week, the market staged a huge rally on Friday the 13th, appropriately.
The biotech sector continues to show considerable strength. I did take some profits Friday near the end of the trading session on two stocks I recently profiled on Seeking Alpha, GenMark Diagnostics (NASDAQ:GNMK) and EnteroMedics (NASDAQ:ETRM), as they had 25% moves in a short amount of time. I continue to be positive on the sector, but no one ever lost money taking some gains. I held on to half of my stake in GNMK, and used some of the returned funds on the trades to purchase another stock in the sector that has a similar profile but has not had a big move up yet.
Click to enlarge images.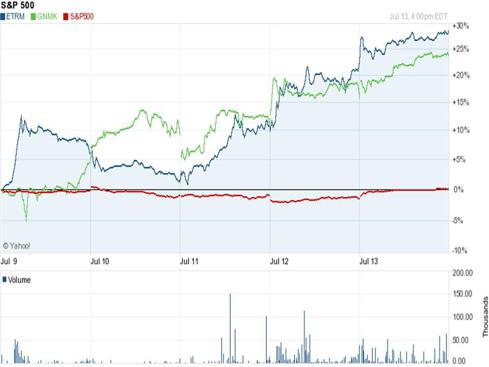 Click to enlarge
According to the business description from Yahoo Finance, "Cerus Corp. (NASDAQ:CERS) engages in the development and commercialization of the Intercept Blood System. The company's Intercept system is designed to target and inactivate blood-borne pathogens, such as viruses, bacteria, and parasites, as well as potentially harmful white blood cells, while preserving the therapeutic properties of platelet, plasma, and red blood cell transfusion products."
Here are seven reasons why CERS is another solid speculative play at $3.50 a share:
Myriad insiders were heavy buyers of the stock throughout 2011 at just under $3.
Net cash on the balance sheet amounts to over $20 million and approximately 15% of its current market capitalization.
The four analysts that cover the stock have price targets ranging from $5 to $6 a share on the stock.
Revenues are expected to increase 13% this year and 29% in FY 2013.
The intercept system, which it developed in a partnership with Baxter International (NYSE:BAX), is approved in France and Germany for platelet preparation and the company is seeking approval for whole blood, which is a market three or four times bigger.
The company is now in over 100 blood centers worldwide. It is on the verge of turning profitable (probably FY 2014 at current revenue growth rates). Given the growing demand globally for a clean blood supply and the company's small market capitalization (under $200 million), this would make a logical acquisition for a larger testing firm like Quest Diagnostics (NYSE:DGX).
The stock was a former highflier that hit $80 in the last months before the Nasdaq crash of 2001. If it gets approval for the U.S. market and/or further penetration into China or Europe, the stock could regain momentum (see chart below).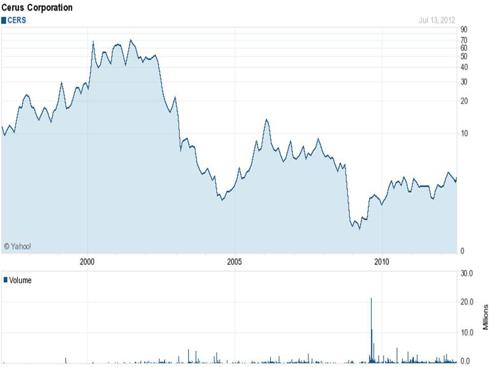 Click to enlarge