By Brendan Gilmartin
Goldman Sachs (NYSE:GS) is scheduled to report Q2 2012 earnings before the opening bell on Tuesday, July 17. The firm indicated it would provide a press release at 7:30 a.m. ET and follow with a conference call at 9:30 a.m. Please note that in past reporting periods, Goldman Sachs reported earnings approximately 15 minutes ahead of the scheduled release time. Goldman's results also have the potential to impact the financial sector as well as the broader market gauges, particularly the index futures, given the investment bank's influence.

Outliers and Strategy
Earnings Per Share: The current Street estimate is $1.15 (range is $0.82 to $1.70). Source: Yahoo Finance.
Revenues are seen coming in at $6.41 billion, down 12.0% year over year.
Goldman Sachs shares are now trading at a mere 7.53 times forward profits, vs. the Standard & Poor's multiple of 13.5 times and 0.65 times book.
At a recent price of $97.42, Goldman Sachs is now trading at a slight discount to tangible book value ($123.94) and a single-digit forward P/E multiple. Goldman also boasts an impressive balance sheet and trades at a mere 0.81 times cash.
Recent News
Technical Review
Goldman Sachs shares recently slipped to $91, matching the early June low, resulting in a bullish "Double-Bottom" formation. Since then, the shares have climbed back toward the psychologically important $100 level, an area that also poses some technical resistance in the event of a solid earnings release next Tuesday. Should results disappoint, look for support at the aforementioned low near $91.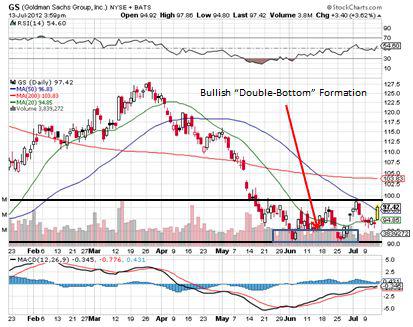 Chart courtesy of StockCharts.com.
Summary
Goldman Sachs shares recently slipped toward levels not seen since the start of the year amid concerns over the impact of the European debt crisis, weaker trading revenues, volatility tied to capital markets, the U.S. regulatory backdrop, and the implications of the "fiscal cliff" in the U.S. But with the shares now trading more than 23% off the March YTD highs and a steep discount to tangible book value ($123.94 as of March 31, 2012), much of the expected weakness may be priced in at these levels. Solid earnings from JPMorgan Chase (NYSE:JPM) also bode well for Goldman Sachs shares headed into the Q2 earnings release.
Disclosure: I have no positions in any stocks mentioned, and no plans to initiate any positions within the next 72 hours.
Disclaimer: By using this report, you acknowledge that Selerity, Inc. is in no way liable for losses or gains arising out of commentary, analysis, and or data in this report. Your investment decisions and recommendations are made entirely at your discretion. Selerity does not own securities in companies that they write about, is not an investment adviser, and the content contained herein is not an endorsement to buy or sell any securities. No content published as part of this report constitutes a recommendation that any particular investment, security, portfolio of securities, transaction or investment strategy is suitable for any specific person.