I was reading one of Jeff Matthews' comments the other day where he was discussing comments by the CEO of Rex Stores Corp (RSC). Jeff's comments usually pique my interest, so I took a look at Rex Stores. At first glance, you want to take a deeper look, the company has a $184 million market cap, tripled earnings from 2006 to 2007 and trades at a PE of 6.
The closer look reveals a seriously bi-polar company involved in 2 business that have issues. Rex's main business is consumer electronics and appliance retail stores. The company has 124 stores in 34 states. We can all think of a few very serious competitors in this business. Second, the company has entered the alternative energy arena. Starting in 2006 they have invested in the construction and operation of several ethanol plants. This article from Mark J. Perry, Ph.D. via
Seeking Alpha gives a good look at what many think of ethanol production these days.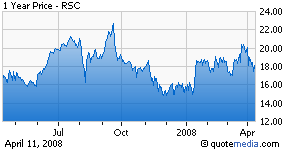 Looking at the big jump in earnings, a couple of things stand out. Rex made almost $34 million in 2007. The retail stores earned $9.8 million. Synthetic fuels earned $6.9 million and all of those operations are now discontinued. Renewable fuels (ethanol plants) account for the balance. The company had a $24 million profit on the sale of a single ethanol plant so it appears the balance of the ethanol business was negative about $7 million (34-9.8-6.9-24=6.9). The above figures are culled from the transcripts of the year end earnings call. The company does not even have press releases on their website.
Now for the interesting part. This info is taken from the recent balance sheet and the conference call referenced above. Note: I am not a deep into the figures analyst, so anyone feel free to comment on this.
The company has a current market cap of about $180 million. The total net equity of the company is $256 million, giving a price to book ratio of about 0.70.
There is $97 million in unallocated cash on the books or about $9.60 per share.
The CEO claims the $45 million of book real estate could be sold for significantly more than it is booked for. Let's value it at the $45 mil. or $4.40 per share.
Cash plus real estate is worth $14 per share on stock trading for $17.50.
Another way to look at it is the market values the retail chain at about $40 million and it earned $10 million last year. (I am putting no market value on the ethanol business).
Thus, you have a company where the market puts very little value on its ongoing business. The wild card is the ethanol plants. Will they make money with their ethanol investments? Only time will tell. Rex has no debt associated with these investments, it appears it is all cash invested. The ethanol plants are owned in conjunction with crop producers (farmers!) so expenses may be better controlled. One plant will be fueled by sorghum instead of corn, and is not on line yet.
My opinion is that if Rex can generate any profit from their ethanol business, the company is severely undervalued. A couple of final notes. The CEO owns about 15% of the stock. Institutional investors hold about 65% with a lot of value oriented mutual funds in their. The stock is followed by a single analyst who estimates earnings at $1.30 this year and $2.40 next.
Note: I currently do not have a position in RSC.