Shares of Altria Group (NYSE:MO) have returned 32.42% over the last 12 months amid a volatile market condition, reflecting the investment's very defensive nature. At $35.62 per share, MO trades at 10.8 times the NTM EBITDA and 15.9 times the NTM EPS. Despite the stellar 12-month performance, I still believe the current valuations remain very compelling relative to the firm's strong fundamentals. Thus MO deserves a spot in your dividend portfolio. My view is based on the following five reasons:
1. Compared to its peers in the tobacco sector, MO has a better growth potential -- especially for its EPS, which is estimated to rise by a two-year CAGR of 19.3% over the current and next fiscal years (see below). The firm also has superior profitability margins and investment returns. In addition, its FCF margin is the highest among the group, and the above-average current and quick ratios reflect a very liquid balance sheet. As such, the stock should reasonably warrant a sizable valuation premium. Nevertheless, the current stock price of $35.62 implies only a small 3.7% premium over both the peer average P/E and EV/EBITDA multiples (see below), making me believe that MO is slightly undervalued and has more room to grow.
Click to enlarge images.

2. Despite the PEG of 2.1 times appears to be high on an absolute basis, once compared with the group average of 1.7 times the valuation makes a lot more sense given MO's much better fundamentals relative to its peers (see above).
3. LTM quarterly dividend per share has steadily grown from $1.3 to $1.6 over the past three years (see below), suggesting management's strong commitment to honor the dividend policy.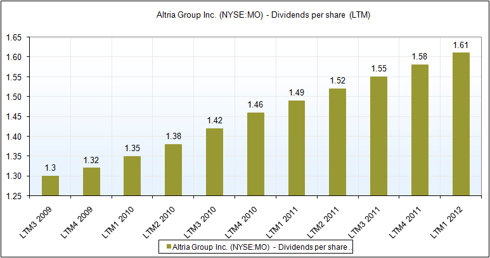 4. Over the past few years, MO's robust FCF has been sufficient to cover the increased dividend payments (see below). Except for the exceptional performance during 2006 and 2007, MO has been able to maintain an EBITDA to free cash flow conversion ratio at around 50% (see below). With analyst expecting revenues to grow at a two-year CAGR of 2.6% over the current and next fiscal years and EBITDA to steadily expand from 41.1% in FY 2011 to 45.1% in FY 2014 (see below), future FCF will likely have a faster growth potential than the top line. Hence, that allows the company to continue raising dividend payments down the road.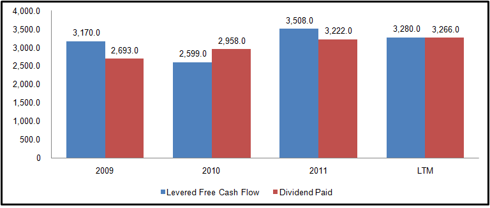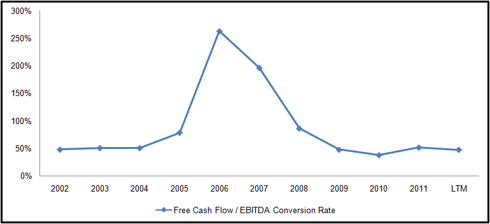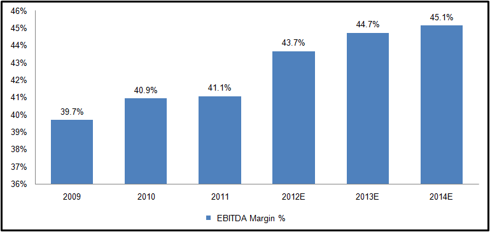 5. Estimated revenues, EBITDA, and EPS have multiple upward revisions over the past 12-18 months, indicating analysts' increasing confidence in the firm's prospects.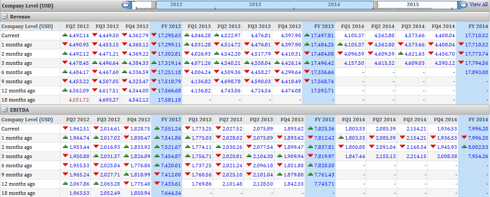 Bottom line, MO's attractive valuations and sustainable dividend payments offer an additional margin of safety on top of the investment's defensive stance. I thus strong recommend acquiring the shares at the current price.
Comparable analysis table and data charts were created by author, estimated financial tables are sourced from Capital IQ, and all financial data is sourced from Morningstar and Capital IQ.
Disclosure: I am long MO.