Cintas Corporation (NASDAQ:CTAS) is slated to report its fourth-quarter fiscal 2012 results after the closing bell on July 16. The Zacks Consensus Estimate for the quarter is 59 cents per share, representing an estimated year-over-year increase of 21.09%. Revenues, as per the Zacks Consensus Estimate, are $1.065 billion.
Third Quarter Synopsis
The company, in the third quarter (ended February 29, 2012), reported earnings of 58 cents per share, beating the Zacks Consensus Estimate of 52 cents and exceeding the year-ago earnings of 41 cents.
Revenues in the reported quarter increased 7.9% year over year to $1.012 billion, comfortably surpassing the Zacks Consensus Estimate of $1.008 billion.
Cintas, which competes with G&K Services Inc. (GKSR), experienced growth in its top-line, driven by organic growth which improved 5.9%. The positive was partially offset by recycled paper price which remained at relatively low level during the quarter.
Estimate Revision Trend
Agreement
Out of the 12 analysts covering the stock, none have revised their estimates for the fourth quarter in either direction over the last 7 days. A similar trend applies for fiscal 2012. Only one firm has revised its estimates in the downward direction over last 30 days for both the fourth quarter and fiscal 2012.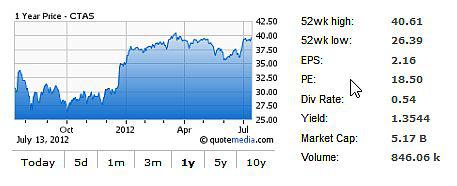 Magnitude
The Zacks Consensus Estimates remained the same for both the fourth quarter and fiscal 2012 over the last 7 and 30 days.
Earnings Surprise History
With respect to earnings surprise, Cintas has topped the Zacks Consensus Estimate in all the trailing four quarters. The company has delivered an average positive earnings surprise of 13.07% over the preceding four quarters, implying that it has beaten the Zacks Consensus Estimate by that measure.
Our Take
Cintas continues with margin expansion through cost efficiencies despite headwinds from higher energy and material costs. During the third quarter of fiscal 2012, gross margin increased 30 basis-points (bps) to 42.1% and the operating margin inflated 200 bps to 13.6%, marking the fifth consecutive quarter of operating margin growth. Cintas has scope for further margin expansion given the unutilized capacity in facilities that the company can leverage.
However, low recycled paper prices still pose a problem for the company. The recycled paper prices during the third quarter remained as low as $150 per ton; negatively impacting revenue growth by $5.6 million or 0.6%. Revenues may come under pressure in the fourth quarter if paper prices remain low.
Cintas currently retains a short-term Zacks #3 Rank (Hold). We have a long-term Neutral recommendation on the stock.