Rumors abound that the Chinese would like another helping of London-based mining giant Rio Tinto (RTP). It wasn't that long ago that the Chinese partnered with Alcoa (NYSE:AA) to acquire their first stake in Rio Tinto. Rio has been fighting off a takeover bid by rival Anglo-Australian miner BHP Billiton (NYSE:BHP).
Now the plot is thickening. Out of the smog-filled skies over Shanghai and Beijing comes the rumor that the same Chinese buyers who scooped up some RTP are now wanting an even bigger piece of the mining and energy pie by flirting with the gigantic mining and metals behemoth BHP Billiton.
We understand that the report has since been denied by a Chinese official, although no such denial has yet been given by Aluminum Corp. of China (NYSE:ACH), the company which combined with Alcoa to acquire the initial stake in Rio Tinto.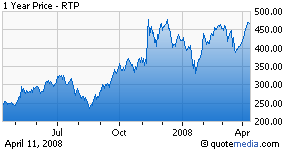 Rio Tinto would like to work with Chinese state firms to develop mining projects around the world, Chief Executive Tom Albanese said recently. Meanwhile, the Chinese are interested in Rio Tinto's abundant iron ore production. Rio Tinto might be worth more than anyone first suspected.
China's investment interest in RTP followed a stock-swap offer from BHP for Rio Tinto. The combination would rival Brazil's Vale (NYSE:RIO) for world supremacy in the production of iron ore, a key ingredient in the manufacture of steel, and one for which the Chinese appear to have an almost insatiable appetite.
Thus far, BHP's second and latest proposal has received an icy reception from Rio Tinto. Rio Tinto leadership realizes that "the best defense is a good offense" and China makes an excellent "Great Wall" to block the acquisition efforts of BHP.
BHP predicted last month that prices for coking coal, another important ingredient in the manufacture of steel, could triple this year. So, it appears that the Chinese are attempting to divide and conquer their major iron suppliers.
By taking positions in both Rio Tinto and BHP Billiton, they'd be capable of playing a role in determining the direction of the iron ore market going forward. It's a win-win for both the Chinese and Rio Tinto, while BHP might get their cake and eat it too if the Chinese invest some of their billions directly in BHP Billiton.
The unconfirmed reports spoke of a partnership offer between the Chinese and Rio Tinto that could draw some of the sting from acrimonious iron ore contract talks pitting Rio and BHP against Chinese steel mills led by Baosteel.
Speaking to reporters in Beijing recently, Albanese said he had no plans on this trip to meet executives from Baosteel Group, parent of Baoshan Iron and Steel Co Ltd, or from the China Iron and Steel Association.
Albanese said Rio Tinto, the world's second-biggest mining company, was without peer in discovering world-class mineral deposits, but these were expensive to exploit and required significant infrastructure investment.
"There are opportunities for cooperation on a joint venture basis, or something equivalent to that, and I think that Chinese SOEs could be very much part of that picture," he said.
Chinese state-owned enterprises (SOEs) could be useful in providing capital, engineering and technology for projects in Asia, Africa and South America, Albanese said, noting that Rio was already a partner with Chinese companies on a number of developments.
"I wouldn't say that we have any active engagement under way in that area. But this is something I have a personal interest in pursuing," he said.
Albanese, speaking on the sidelines of the China Development Forum, an annual conference organised by the government, said he was philosophical about the harsh words directed at Rio this week by senior figures in the Chinese steel industry.
"They are part of the process of engagement," he said.
Sam Walsh, chief executive of Rio Tinto's iron ore business, said he hoped to sell up to 15 million tonnes of iron ore to China on the spot market in 2008, up from 4-5 million tonnes in 2007.
With demand so strong, Rio was willing to be patient in the contract talks, he said. Now the rumors are again flying that Rio Tinto would like to partner more aggressively with Chinese investors and customers.
"The market is extremely tight. People are banging down our door to get hold of supply," Walsh said. "We believe the fundamentals are going to get stronger, and we're happy to wait until customers recognise the market fundamentals."
Albanese said China accounted for 90 percent of the growth in seaborne iron ore trade, and there was no sign of a slowdown in steel demand in 2008 beyond what Rio had already forecast.
China's economy would probably still grow by about 10 percent this year, with metals demand outpacing that by several percentage points, and was likely to increase steel capacity to 520-540 million tonnes from 487 million last year, he said.
Albanese said the rosy picture of sustained demand for commodities was why Rio had rejected BHP's takeover bid. "What they offer does not come close to remunerating the shareholders of Rio Tinto for what Rio Tinto can do in this very strong environment," he said.
BHP is offering 3.4 of its shares for every Rio share. When it was made in February, the offer valued Rio at $147.4 billion.
Chinese state-owned aluminium group Chinalco muddied the waters last month by teaming up with U.S. firm Alcoa Inc to buy 9 percent of Rio for $14 billion.
Albanese, we were told, said he had no plans on this trip to visit Chinalco, which has said it would be more interested in raising rather than cutting its stake in Rio.
It sure seems like RTP is doing all it can to raise the stakes and start a bidding war for its stock. This is a shareholder-friendly company and it seems to us that the leadership under Albanese is doing all it can to protect the full value of this valuable company.