One way to make a company a global brand is to make it the source of critical, exclusive data such as the Dow Jones or S&P indexes or the J. D. Powers ratings of autos and other products. The disease management and preventive care company, Healthways Inc. (NASDAQ:HWAY), has joined with the international polling company, Gallup, to create the Gallup-Healthways Well Being Index (sm), which will give Americans a measure of their individual and collective health and well being.
I recently profiled HWAY here.
Healthways' president and CEO, Ben Leedle, explained the strategy in a conference call with securities analysts (available on Seeking Alpha).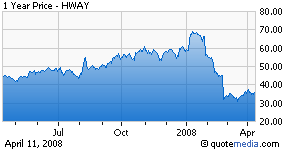 The wellness being index should more than pay for itself. It appears that Healthways will be able to use the data collected to improve the quality of its services and develop new ones long before its competitors understand the evolving markets. HWAY will be able to use its polling data to sell its services to its clients and even patients and providers. And it probably will work with Gallup to sell custom surveys to individual employers, insurers and government agencies. Based on the press release, it appears that the company will make it possible for individuals to benchmark themselves against people who match their demographics and have their chronic illnesses. Whether this service will be made available to the general public or only to employees of Healthways' clients hasn't been disclosed. Gallup's answers to 10 of my questions are reported below.
How can Healthways make its well being index must reading for its prospects and customers? Over time, the index might become an economic indicator that will be watched by economists, executives and traders. Gallup and Healthways may be able to show some predictive powers that make their index a topic of conversation on CNBC and FBN and in the financial media and blogs.
Gallup and Healthways have scheduled a press conference for April 29 to discuss the results of almost four months of conducting the daily surveys. I asked Healthways and Gallup 10 questions, and Gallup's senior director, media strategies, Eric Nielsen, provided these replies via e-mail:
1. What have you found in your early surveys that will help you sell Healthways' preventive care and disease management services to Medicare, insurers, employers, physicians and patients?

A: The initial findings will be presented at the event on the 29th. In general, we believe health and well-being effect a company's bottom line in numerous ways including the cost of healthcare and the financial impact of poor productivity due to poor health. Healthways is in the business of helping health plans and employers improve the health of populations and consequently a company's bottom line.

2. Will you bundle custom surveys into existing contracts with your clients, or will you sell such surveys as add-on services?

A: We will do both

3. What kind of revenues will HWAY generate from conducting custom surveys and interpreting the data, and how will Gallup and Healthways divide the revenues and work?

A: That information is confidential to Healthways and Gallup

4. Who is Gallup surveying in terms of demographics, and how are the findings being cross tabbed?

A: We are surveying a representative sample of approximately 1,000 adults 18+ every night. With the unprecedented large number of surveys we are collecting we are able to look at very fine crosstab analysis.

5. When are the surveys being conducted-9 to 5, or 24/7, or what?

A: In accordance with Gallup's standards the surveying is done primarily in the evenings 7 days a week. But, when a number cannot be reached after a couple call backs, we try back at different times of the day to try and get them to complete the study.

6. Are you calling cell phones? How do you reach people who don't have land lines or cell phones?

A: Yes we include cell phones and cell phone only individuals. This is a first in the polling industry for a regularly conducted poll.

7. Are you conducting online surveys? Why and why not?

A: No, we are only doing phone. Standard internet surveys of the general population are not representative of the population.

8. How many questions are you asking on each call, and what kind of questions (true or false, multiple choice, rating, open ended, situational, followup, etc.)?

A: Questions about people's health--both emotional and physical--as well as access to healthcare are primarily asked. The questions are closed-end and can be yes/no, scale, etc.

9. What percentage of the data and resulting reports will be released to the public, and what percentage will be treated as proprietary? Please explain.

A: The vast majority of the topline data and select demographic analysis will be available to the public. Deep dives into the data and special consulting on the data will be for subscribers only.

10. How and to whom will the index be distributed and how frequently?

A: The index will be reported daily on our joint website and Gallup will write frequent stories from the data that will appear on gallup.com.
The joint site will be live April 29th.
Full disclosure: I don't own HWAY.