Kayak (NASDAQ:KYAK) is due to IPO during the week of July 16th with the share priced between $23 and $25. The company aggregates and organizes online travel information from hundreds of travel suppliers and online travel agency (OTA) websites onto a single platform to deliver an intuitive, accurate, and comprehensive travel information database for the consumers.
Investment Highlights
An intuitive and robust technological platform that delivers comprehensive travel information to consumers, and allows travel suppliers and OTAs to reach their target market while maintaining brand identity and customer relationships.
Highly scalable and lean business model that could disrupt traditional online travel as it takes time spent away from the traditional OTA sites and expands globally.
Leading position in travel app bodes well for mobile payment and may translate to higher commission rate and margin expansion.
Key Risks
Strategic partnerships with Google (NASDAQ:GOOG), ITA Software, and Orbitz (NYSE:OWW) are due to expire in the next two years.
Competitive Analysis
TripAdvisor (NASDAQ:TRIP) is Kayak's best comparable and commands almost three times more revenue share of the online travel information space than Kayak. The company has a robust user review engine that differentiates itself from other OTAs and travel sites.
Business Overview
Kayak consolidates online travel information from hundreds of travel sites to provide consumers with a comprehensive platform so they can conveniently search and compare relevant travel information. Kayak is not an OTA because it provides a platform for travel suppliers and OTAs to sell their products and services to the end-users. The company generates distribution revenue based on the referrals to the travel suppliers and OTA websites, and from online advertising on its website and mobile platforms, rather than booking commissions earned. As of Q1 2012, referral revenues from Expedia (NASDAQ:EXPE) and its affiliated brands account for 23% of Kayak's net revenue, followed by Orbitz (~10%) and Priceline (NASDAQ:PCLN) (~10%).
Click to enlarge images.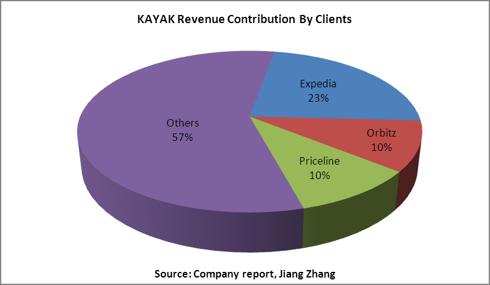 Investment Highlights
Information + Technology = The One-Two Punch in Online Travel
The online travel industry is mired by two key challenges:
The Internet creates large amounts of travel information that consumers have to sort through, which makes trip planning tiresome and time consuming.
Online travel suppliers and OTAs want to maximize their distribution channels while maintaining brand equity and customer loyalty, and to advertise their offerings to the relevant customers in a cost-effective manner.
Kayak directly addresses these challenges by consolidating travel information from hundreds of websites onto a single platform to provide consumers with a convenient, intuitive, and comprehensive travel planning experience. Once a Kayak user finds their preferred travel product or service, they are referred to the respective travel supplier or OTA site to make the final purchase. Referral, rather than direct booking via Kayak, allows the travel suppliers and the OTAs to maintain their brand equity and relationship with the consumer.
Comprehensive information is only part of the equation. Technology is also required to build a sustainable business model. Kayak's keen focus on building a robust platform that processes large amount of information and presents them in a clear and intuitive manner allows the users to be confident that they are getting the best price, which results in superior user experience and an increasing loyal user base. I note that 75% of Kayak's query volume in Q1 2012 was generated from users directly visiting the company website and only 10% was referred by search engines, indicating that Kayak's brand equity is gaining momentum.
Over the past three years, Kayak also experienced a robust query growth of 40% CAGR. Query growth is highly correlated with revenue growth. According to data from the past three years, query growth explains 98% of the variation in revenue growth.
| | | |
| --- | --- | --- |
| | Revenue (in millions) | Query (in millions) |
| 2009 | 113 | 459 |
| 2010 | 171 | 634 |
| 2011 | 225 | 899 |
| Correlation: | 0.98 | |
Scalable and Disruptive Business Model Aims for Global Expansion
Kayak's business model is highly cost efficient and scalable. The company does not incur meaningful cost on customer service and fixed assets because all the travel products and services are purchased directly through travel suppliers and OTA websites. As a result, Kayak only has 185 employees, most of whom are technologist and software engineers, and can achieve higher revenue per employee than its Internet peers.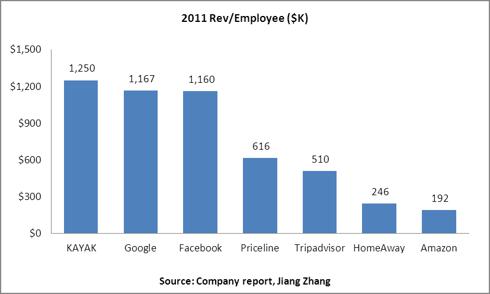 Finally, Kayak's disruptive business model positions the company to become a relevant player in the global online travel market.
Kayak currently operates in 15 countries outside of the U.S., including Germany (Swoodoo.com), the U.K., France, Spain, Italy, and Austria (CheckFlix.com). International only accounted for 18% of the company's 2011 revenue compared with 63% for average online travel bookings, indicating a significant runway for growth.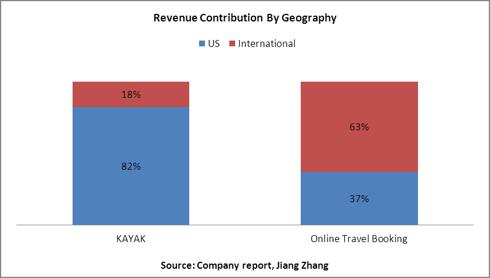 International is also the fastest growing segment over the past three years with 124% CAGR. As it expands globally, gains brand recognition in the local markets, and generates robust user traffic, Kayak could establish a strong network effect among travel suppliers and OTAs as they become increasingly dependent on the company for traffic referrals given that consumers' desire for an intuitive and comprehensive online travel information platform is consistent throughout the world. I would note that one of the fastest growing online travel sites in China is a company called Qunar, which is owned by Baidu and is known as "The Chinese Kayak." According to data by Experian, Qunar led the Chinese OTAs in terms of visits with 42% market share while dominant OTAs such as Ctrip (NASDAQ:CTRP) and eLong (NASDAQ:LONG) had 15% and 4%, respectively, in November 2011.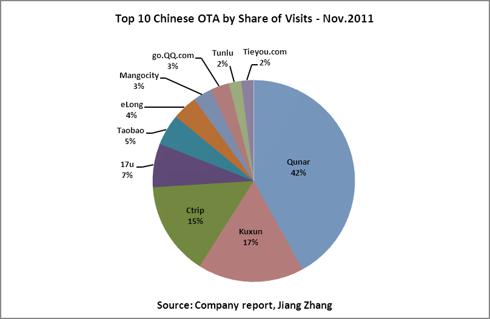 Attractive Mobile Payment Opportunities
Kayak is the No. 1 mobile travel app for iPhone and Android in the U.S. As of Q1 2012, the company has 15 million cumulative active installs compared with a bit over 5 million in Q1 2011. Like Kayak's online platform, the mobile app is intuitive and comprehensive because users can use one app to plan their travel rather than to use multiple apps from different travel suppliers or OTAs. Mobile monetization currently has no material contribution to Kayak's overall revenue, but I am positive about its future prospect in mobile payments.
Travel apps has the potential to deliver tremendous value to travelers and travel managers by streamlining both the purchases and the expensing process. According to a survey done by Worldpay, 58% of the consumers worldwide are interested in paying for flights in the future using mobile devices. However, the adoption of mobile travel payment is still low due to security concerns. According to a survey done by AirPlus International and Association of Corporate Travel Executives, 71% of the respondent do not use mobile phones as payment method.
Kayak's online platform and mobile app offer the users a service called "Kayak Booking Path" that gives them the choice of completing the transaction via Kayak, which receives a higher commission from the travel suppliers and OTAs. Kayak Booking Path usually matches the lowest price available so the users do not need to go to a separate site to complete the purchase. This creates a seamless user experience that not only results in repeat users, but also higher revenue for Kayak.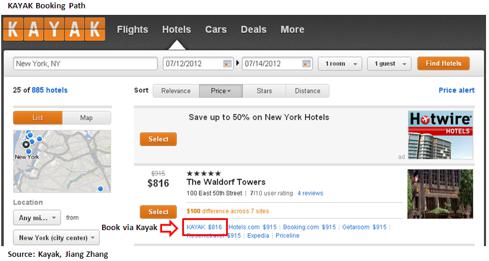 The proliferation of smartphone adoptions and Kayak's leading position in travel apps bode well for mobile payment as consumers book hotels and flights through their mobile devices. However, since security is a major concern, Kayak needs to assure the users that their payment information will not be compromised when paying through mobile devices. In the near-term, I expect some additional pressure on the cost side if the company decides to ramp up its marketing messages that emphasize Kayak's mobile security.
Key Risk: Expiring Strategic Relationship Creates Low Visibility
| | |
| --- | --- |
| Strategic Partners | Expiration Date |
| Google Inc. | October 31, 2012 |
| ITA Software | December 31, 2013 |
| Orbitz Worldwide | December 31, 2013 |
Of the key strategic partnerships, ITA, which is owned by Google, provides 39% of Kayak's overall airfare query results. In addition, 16% of Kayak's airfare query results from other third parties utilizes ITA's engine, which means that 55% of Kayak's airfare query results are from ITA.
In the recent Department of Justice ruling, Google is required to "develop and license travel software, to establish internal firewall procedures and to continue software research and development." While Google will unlikely prevent Kayak from receiving ITA services, it could make the service costly, which may impact Kayak's margins.
As for Orbitz, I expect Kayak to continue the strategic partnership because Kayak's CEO Steve Hafner founded Orbitz in his early days and the relationship between Orbitz and Kayak is strong, in my view.
Competitive Analysis
TripAdvisor, which was spun off from Expedia last year, is considered Kayak's best comparable and the biggest competitor. TripAdvisor is the largest travel information website in the world with over 51 monthly unique visitors according to data from comScore. The platform's biggest differentiator is its review section, where users can rate and comment on hotels and restaurants and have powerful influences on people's purchasing decisions.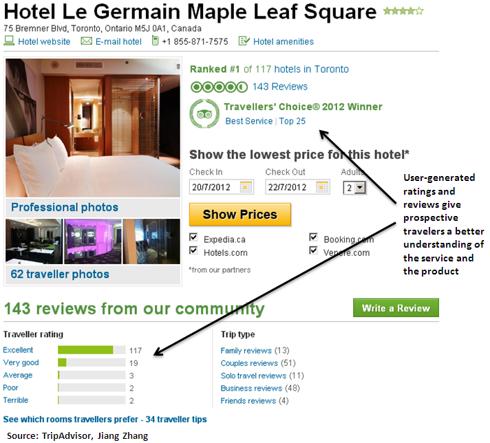 The review section is so powerful that Kayak sources it from TripAdvisor and incorporates it in its platform.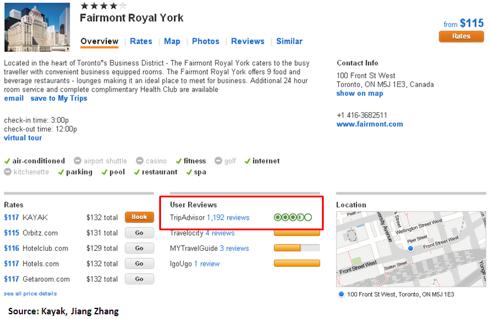 Without TripAdvisor, Kayak can still source peer reviews from other sites such as Travelocity, MYTravelGuide, and IgoUgo, but TripAdvisor has the most comprehensive reviews on the Internet, and Kayak's user experience would likely to be very different without TripAdvisor.
TripAdvisor features a Facebook integration that allows users to be informed of their friends' travel experience and creates a strong network effect. While Kayak also has Facebook integration, user engagement on Kayak via Facebook seems to be very weak. I note that TripAdvisor's 35.8 million MAUs greatly outnumber the 0.22 million that Kayak has on Facebook, according to AppData.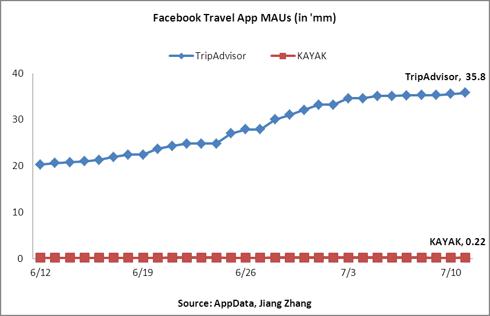 In 2011, TripAdvisor generated $637 million in revenue, compared with Kayak's $224 million. Historically speaking, Kayak's revenue gap with TripAdvisor has been consistently between 35% and 40% over the past two years.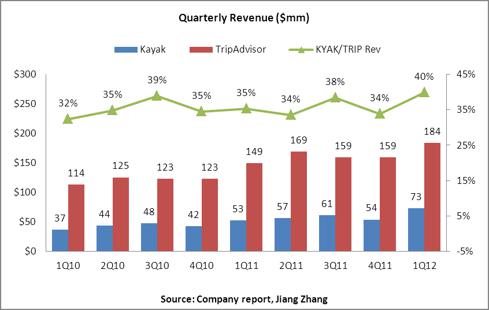 TripAdvisor is also more scalable than Kayak, as indicated by its higher gross profit margin. I believe this is partially due to TripAdvisor's longer operating history since 2000 vs. Kayak, which was founded in 2004. In addition, TripAdvisor enjoys a more robust infrastructure than Kayak thanks to its origins as part of Expedia.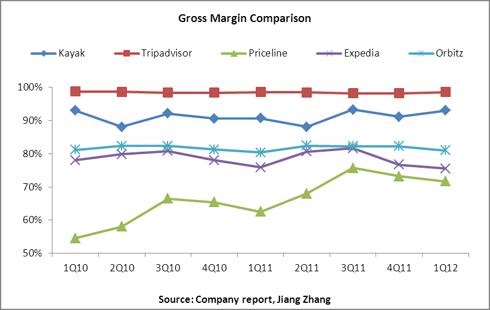 Please note the disparity between the online travel information companies and the OTAs. Because Kayak and TripAdvisor are both software companies, they command higher gross margins of 90%-plus compared with those from the OTAs.
Since Kayak is a smaller player in the online travel information space, the company has to invest heavily in SG&A to promote its brand awareness.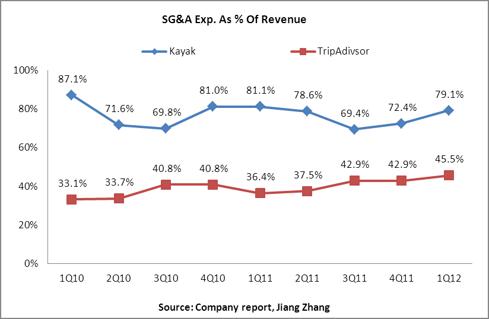 Given the online travel information industry's early stage of development, the competition between TripAdvisor and Kayak is not fierce since both sites cooperating in information sharing. However, as the user traffic to online travel information sites grow, TripAdvisor and its former parent Expedia could terminate their partnerships with Kayak, which could cause poor user experience and loss of 20% revenue for Kayak. Although this scenario is unlikely in the near term, it is certainly a possibility in the future.
Financial Analysis
Over the past four years, net revenue has grown at a CAGR of 41% from 2007 to 2011. For Q1 2012, revenue was $73 million, 39%-plus year over year. A key operating metric is revenue per thousand queries, or RPM, which measures Kayak's effectiveness of converting queries to revenue.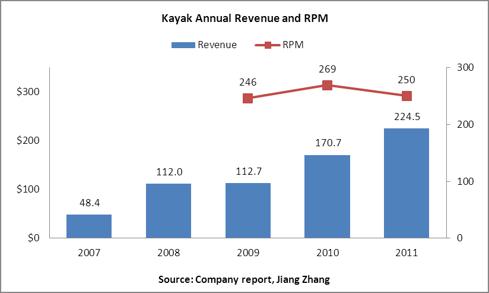 Kayak operates a low capital-intensive business given that it is a software company. Management expects CAPEX to be ~$5 million per year in the foreseeable future.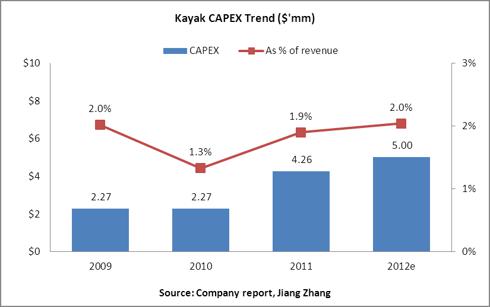 Valuation
The IPO price is between $22 and $25 per share. Assuming Kayak earns $0.44 per share for 2012, the midpoint ($23.5) of the IPO price values the company at 56 times this year's earnings.
Disclosure: I have no positions in any stocks mentioned, and no plans to initiate any positions within the next 72 hours.