Kennametal (NYSE: KMT) is a global supplier of advanced materials, engineered components and manufacturing tools.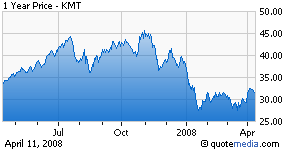 Operating in two divisions - Metalworking Solutions/Services and Advanced Materials Solutions – KMT shares have increased from a split adjusted low of $13.50/share in March 2003 to a split adjusted high of $45.60/share in November 2007 for a compound annual growth rate of 35.5% over the period.
During the same time the Vanguard 500 Index increased from roughly $72/share to $136/share for a compound annual growth rate of just over 17% - meaning that KMT doubled this major index. Quite the growth story.
The story here is whether or not KMT can keep up its torrid pace of growth – or will it slow.
That it is a global leader in the tool industry is really not the question – it is. But we'll answer that one as well in this essay.
Since 2003, KMT's return on equity has increased yearly at a fairly nice pace. Starting with 2003 and continuing to 2007, KMT's return on equity has been 2.5%, 8.3%, 12.7%, 12.1%, 12.1%. Not bad stats, but truly well managed companies usually have ROEs in the high teens or even higher. In addition, other companies in the Metal Fabricating industry in which KMT competes have higher ROEs since 2004. Specifically, the industry as a whole has had ROEs of 13.5%, 16.4%, 16.9%, 16.1% from 2004 to 2007 – which is substantially higher than that of KMT.
Kennametal is to some extent a cyclical stock since its Advanced Materials Solutions Group (which comprises 33% of '07 sales and 37% of operating income) makes tools for mining and highway construction – both of which are heavily cyclical industries. One question about KMT going forward is that in such a cost conscious economy (aka in a slowing economy – a recession in all but name only at this point), will it be able to generate enough business from construction projects and companies like Shaw Group (SGR), Jacobs Engineering (NYSE:JEC) and other large industrial project type companies.
It is not that the company isn't profitable. It is – very much so since its increased its profits from just over $71 million in 1998 to just over $179 million in 2007…and KMT has increased its profits in all those years but one.
We like the fact that KMT has decreased its long-term debt every year except for one over the last 10 years – good stuff in our book, since it means that the company pays less interest on its borrowings. Another thing is that the company has increased its net profit margin from just over 4% in 1998 to 7.5% in 2007. Quite a feat for an industrial company that earns its money on manufacturing products.
We also like the fact that the company is geographically diversified – having over 52% of sales coming from outside the US.
The Machine Tools & Accessories industry is highly fragmented and is composed of many small cap companies. As such many of the smaller companies seem to be ripe for the picking by the larger companies like Stanley Works, Timken, Kennametal, and Kaydon. We see this as being positive for both the industry and for Kennametal since purchasing will enable them to grow more quickly than by organic growth. In particular we see potential purchases with companies as varied as Hardinge (NASD: HDNG), Actuant (NYSE: ATU), and possibly RBC Bearings (NASDAQ: ROLL).
Finally, as the United States economy seems to be almost certainly in a recession as of this writing, we see industrial and manufacturing based companies like KMT as being some of the first to recover from this recession. As such, the timing might not be perfect per se, but we do see KMT recovering when the rest of the economy starts to right itself. The economy and businesses will need KMT's tools when the building starts anew in the next growth cycle.
Based on our proprietary methodology we see KMT as still being an 'A' ranked stock. As regular readers know, our 'A' ranked stocks are companies that we believe to be the most undervalued – and which will generate the highest returns over the next 2-3 years. As of this writing, we see KMT as being undervalued by around 50% or so. The chance for a doubling of its share price in the next year or two is fairly high according to our methodology – and is definitely an investment we feel that investors should look into.
Disclosure: Author has a long position in KMT