Australian debt offers an attractive opportunity for those interested in a solid bond risk/reward as compared with other countries. Although a mature economy, Australia is stable and has the lowest debt-to-GDP ratio of all 22 countries in the MSCI EAFE index. This has allowed Australia to maintain a AAA rating on its debt.
Data from Tradingeconomics.com is used to show the debt-to-GDP ratios of the following countries:
| | |
| --- | --- |
| Country | Debt to GDP Ratio |
| Australia | 22.9% |
| New Zealand | 37% |
| United States | 103% |
| Japan | 211.7% |
| Canada | 85% |
| Greece | 165.3% |
| United Kingdom | 85.7% |
| Italy | 120.1% |
We can see that Australia is in much better shape than the countries in other parts of the world. Although Australia is not totally immune from global recession risk, it is in much better shape to handle a downturn as compared to other nations. Australia also has the least amount of default risk.
WisdomTree offers the Australian & New Zealand debt fund (NYSEARCA:AUNZ) for those interested in bond exposure to these countries. We can see that New Zealand also has a low debt to GDP ratio in relation to the other countries. This ETF has a yield of 2.29%, an expense ratio of 0.45%, and a net asset value of $22.42 which is about the same as the price of the fund.
Within AUNZ, the credit quality for its holdings is broken down into the following ratings: 52.4% are rated AAA, 28.5% are rated NR, and 19.16% are rated AA. The average annual total return for the ETF was 5.42% since inception.
click to enlarge images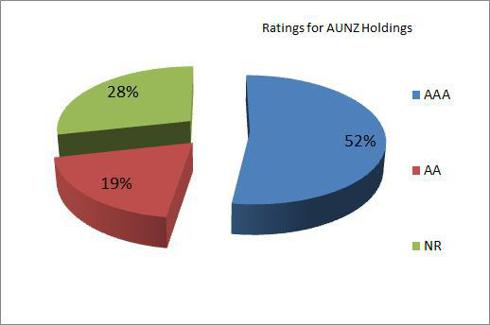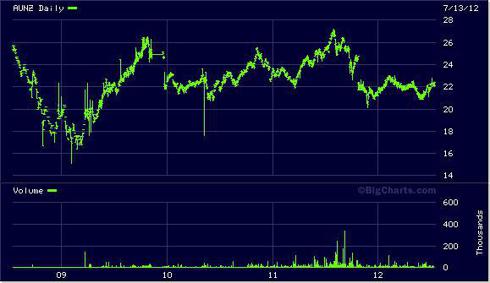 Pimco offers a newer ETF known as the Pimco Australia Bond Index ETF (NYSEARCA:AUD). This ETF has a yield of 0.12% with an expense ratio of 0.51%. Pimco's AUD has a goal of seeking returns that correspond to the Bank of America (NYSE:BAC) Merrill Lynch Diversified Australian Bond Index. The ETF provides exposure to the Australian dollar-denominated investment grade bond market.
Pimco's ETF began in November 2011, so it has less of a history than WisdomTree's ETF. It began with a price of about $99 and is now trading at $102.33 for a gain of 3% since inception. It has a Net Asset Value of $102.85.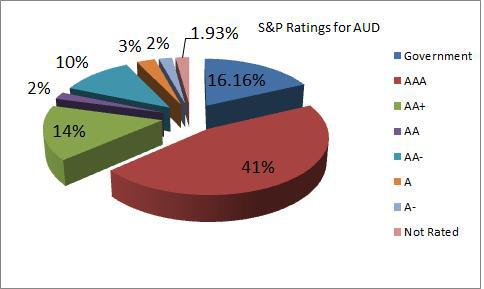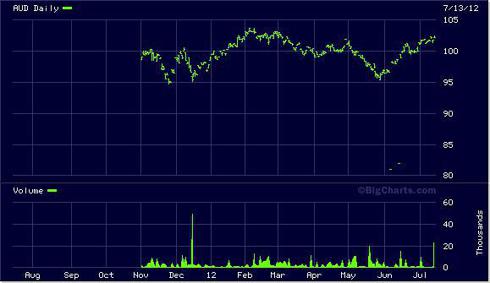 Be aware that the price of both ETFs has been volatile since inception with price swings of 4% to 7% in AUD and price swings of 15% to 53% for AUNZ. (The 53% swing in AUNZ was an anomaly as the fund emerged from the 2008 financial crisis). This volatility is probably a result of them being used as trading vehicles based on market conditions. You can use them as trading vehicles yourself for the short-term or just hold them for the long-term and don't sweat the price swings.
Disclosure: I have no positions in any stocks mentioned, and no plans to initiate any positions within the next 72 hours.