Applied Materials (NASDAQ:AMAT) is up 8% this year (vs. Nasdaq -14%) as investors eagerly anticipate an announced $3B in orders from its SunFab solar-panel line, which promises to produce bigger, cheaper solar panels than those of industry leaders Sharp (OTCPK:SHCAY), SunPower (NASDAQ:SPWR), Suntech Power (NYSE:STP) and First Solar (NASDAQ:FSLR). But Barron's Bill Alpert thinks bulls may be jumping the gun: The company has yet to show it's able to install the huge 5.7 square-meter panels.
Solar power companies are still struggling to bring the per-kilowatt price of solar energy closer to grid parity (that is, in line with the cost of traditional electricity). A shortage of raw polysilicon that is used to make solar wafers has limited production and pinched margins.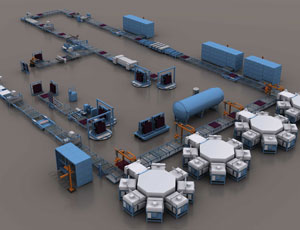 Along came First Solar and began manufacturing solar wafers with cadmium telluride. It absorbs sunlight better than polysilicon, and requires a film 1/100 as thick as a typical polysilicon wafer. First Solar thinks it can hit grid parity by 2012. That's why its shares are up 375% over the past year.
Applied Materials SunFab is decidedly less novel. It uses thin dual silicon films, which are less efficient than cadmium telluride. AMAT thinks it can drive costs way down (17% cheaper than FSLR) by manufacturing panels six times as wide as First Solar's, but acknowledges there is not yet installation machinery that can handle the mega-panels. Even if it could figure out how to build them, the huge glass plates could drive installation costs up.
A Goldman analyst says recent bullish trading in AMAT reminds him of the dot-com bubble. Citi's Tim Arcuri says he's in the "show-me phase."
==================================
Claymore and Van Eck registered the first two solar energy ETFs in March. That's a no-brainer: they will likely gain instant popularity.
Remember that AMAT is in essence a semiconductor company. Credit Suisse's Satya Kumar (noted in Barron's) says its core semiconductor and panel businesses are worth less than $13 a share, based on EPS forecasts of less than $1. There's an awfully big SunFab premium in the stock.