In a series of articles related to Fossil (FOSL) posted on May 3, 2012, May 21, 2012 and June 7, 2012, a protected covered call or collar was initially considered for the company, as the company's earnings release was fast approaching, and the protective covered call provided a way to position the investment for realizing a potential return, yet remain protected against a large drop in stock price.
A protected covered call may be entered by selling a call option against a stock and using some of the proceeds from selling the call option to purchase a put option which operates as "stock insurance", in case the price of the stock drops significantly.
Following the earnings release, Fossil's stock price plummeted due to exposure to the turmoil in Europe. A long position in the stock price would have resulted in a loss of -49%, but the protected covered call only experienced a loss of -4.9%.
In the following articles, the protected covered call position was replaced with a bull-put credit spread position as a way to recover from the -4.9% loss. A bull-put credit spread may be entered for a net credit by selling one put option and purchasing a second put option further out-in-time. Via the series of rolls, the -4.9% loss was recovered, and the net potential return following the last article was 12.5% (61% annualized).
In the latest article, the position was rolled to a 2012 Jul 55/60 bull-put credit in order to realize additional potential return, and a management point of $64 was set for management of the position.
The $64 management point for the 2012 Jul 55/60 bull-put credit spread was breached today, so the position should be analyzed for an exit or roll. There doesn't appear to be any bad news directly related to Fossil, the drop in stock price appears to be in sympathy to the general market bearishness.
Using PowerOptions tools, exiting the current 2012 Jul 55/60 bull-put credit will require a net debit of $0.63 to close as shown below: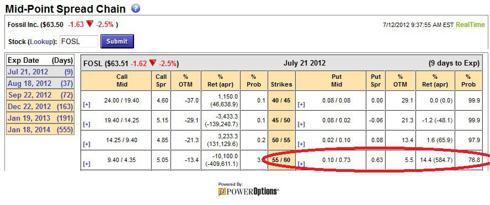 Click to enlarge
Exiting for a net debit of $0.63 would result in a small aggregate net loss of about -1% when considering the previous series of trades. With Fossil's earnings release fast approaching on the horizon, taking a -1% loss is worthy of consideration, as rolling the position to another spread trade will require us to be holding a spread trade during an earnings release, which is generally not a good idea. So, at this point, an investor might consider exiting and reentering a bull-put credit spread following the earnings release or exchanging the bull-put credit spread for a protected covered call, which is what we started out with. I don't like to take losses, so the protected covered call is the option considered going forward.
A variety of protected covered calls were found for Fossil as shown below:

Click to enlarge
The highest returning protected covered call listed in the table above with a potential return of 2.4% (9.9% annualized) looks attractive, as the maximum loss which can be sustained is 6.2%. Success for the protected covered call will result in an aggregate profit of about 1.4%, not great, but better than a -49% loss. The specific call option to sell is the 2012 Aug 60 at $6.60 and the put option to purchase is the 2012 Aug 55 at $1.85.
Trade
FOSL stock (existing or purchased)
Sell FOSL 2012 Aug 60 call at $6.60
Buy FOSL 2012 Aug 55 Put at $1.85
A profit/loss graph for one contract of the protected covered call is shown below: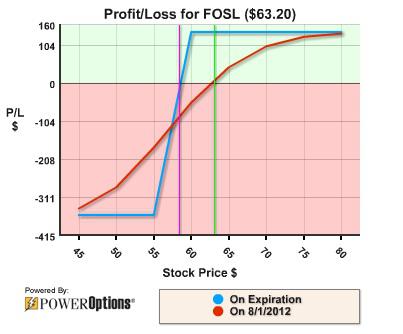 For a stock price below the $55 strike price of the put option, the value of the protected covered call remains unchanged. If the price of the stock increases to around $70, the position can most likely be rolled in order to realize additional potential return.
Disclosure: I have no positions in any stocks mentioned, and no plans to initiate any positions within the next 72 hours.