Oil refiner Valero (NYSE:VLO) doesn't extract its own oil. As the price of oil has risen, its margins have been pummeled, and so have its shares, down 30% YTD to $48. It recently projected Q1 EPS of $0.10-0.35, way below Street forecasts of $0.91.
Barron's says that despite the gloom, crack spreads (the difference between the price of gas and crude) have bottomed and are widening; after going negative a few weeks ago, they're back to $7.43/barrel. Analysts say that a $10 spread is sustainable.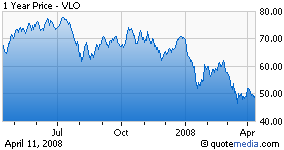 Citi analysts say Valero's downside is limited to about $43.80 -- and that assumes worst-case earnings and its historical lowest P/E multiple. It also trades at a sizeable discount to the replacement value of its refineries; CEO Bill Klesse has said he wants to sell four of its 17 refineries, and there are rumors Petrobras (NYSE:PBR) is stalking its Aruba refinery. With the proceeds, Valero plans to pay down debt and repurchase shares. Valero's refineries are also equipped to refine the lowest quality crudes, which few others can do.
Analyst Paul Sankey of Deutsche Bank think shares have more than 60% upside.
===============================
Here's Valero's most recent earnings call transcript. Of interest, CEO Bill Klesse conceded (on Jan. 29) that, given the choice, the company would like to produce summer-grade gasoline early (due to its higher crack spreads) and hold onto it until the summer driving season. Something for investors to look forward to?