In the past year, TJX Companies (NYSE:TJX) (which includes T.J Maxx, HomeGoods, and Marshalls) defied macro trends and grew at a remarkably stable pace. The stock now trades at $43.88, which marks a 58% increase since July 2011. As the stock pushed higher, hedge funds became enamored with TJX and now hold a significant portion of the stock. We saw the hedge fund groupthink as a potential reason to short TJX. We reasoned that if the sentiment for TJX began to change, the same hedge fund groupthink that drove the stock price upwards could act as a catalyst to rapidly move the stock downward if funds began to exit TJX en masse.
After some initial research, our team visited a T.J. Maxx store to gain a better understanding of the company. After entering the store, we soon realized that some of our base assumptions about T.J. Maxx had been incorrect. We had initially assumed that a slowing economy would be a potential headwind for T.J. Maxx, but we soon realized that was not the case. We realized that T.J. Maxx is a "true" discount retailer that seems very committed to keeping prices low. Part of TJ Maxx's strategy is to show the original price of an item, and then show the new, lower price that TJ Maxx offers. The difference in price can be quite impressive, as some items such as designer purses were offered at a 50% discount to the tag price. We interviewed several customers and they seemed to sincerely believe that they were getting a significant price discount by shopping at TJ Maxx. The fact that consumers believe they are getting a true discount should help TJ Maxx if the economy or retail sector experience a slowdown.
TJ Maxx's commitment to providing rock bottom prices can cause some troubling issues, but it is important to realize that these issues are not as negative as they first appear.
One such issue is that because a significant portion of T.J. Maxx's inventory consists of leftover products from other companies, the products that T.J. Maxx carries will vary wildly. For example, you could not go to T.J. Maxx planning to buy an Eastman aluminum pot. If you went to T.J. Maxx, a more likely scenario would entail going to look for an aluminum pot, finding out that they only had black pots, and instead buying some cheap, cool looking spoons that you didn't even know you needed. This variability really irked some of our more methodical analysts, who said that they would never shop at a place where you never know what is in stock. However, we interviewed several customers and they all said that product variability was actually one of the reasons they shopped at T.J. Maxx. Customers described T.J. Maxx as a true "shopping experience." Customers seemed to view shopping at T.J. Maxx as a treasure hunt, because they never knew what interesting items they would find at a deep discount. The employees at T.J. Maxx claimed that they change the store inventory three times a week, which encourages customers to make frequent trips to the store.
In our initial review of T.J. Maxx, we did not believe that layaway was an important part of T.J. Maxx's business. However, in one conversation with a customer, we will call her "Maxine," we learned that layaway was a service that really differentiated T.J. Maxx from their competitors. Maxine had been unemployed for a month, which forced her to change her spending habits. She really liked layaway, because it allowed her to purchase high quality items while not exceeding her weekly budget. Although a few stores like Walmart (NYSE:WMT) also offer layaway, they do not provide any products that are comparable to T.J. Maxx's high-fashion, designer items.
After realizing that T.J. Maxx would most likely handle a recession very well, we were quickly backing away from our plan to short TJX. But, just to be sure, we built a model to determine where we thought the price of TJX stock was heading.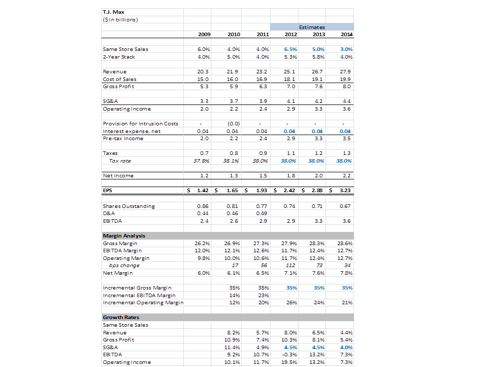 Click to enlarge
In our model we have TJX missing Wall Street consensus by a penny in 2012, and then beating Wall Street estimates by a penny in 2013. Because our earnings estimates were in line with Wall Street analysts, our decision to go long or short TJX was based on valuation.

Click to enlarge
Conclusion: In our bear case, TJX would decline 32%, but in our bull case, TJX could rise 31%. This barbell distribution is a sign that TJX is fairly valued at its current price. The risk/reward in this stock makes it a bad candidate for either a short or a long position.
Disclosure: I have no positions in any stocks mentioned, and no plans to initiate any positions within the next 72 hours.